Wall-Sheathing Insulation Stops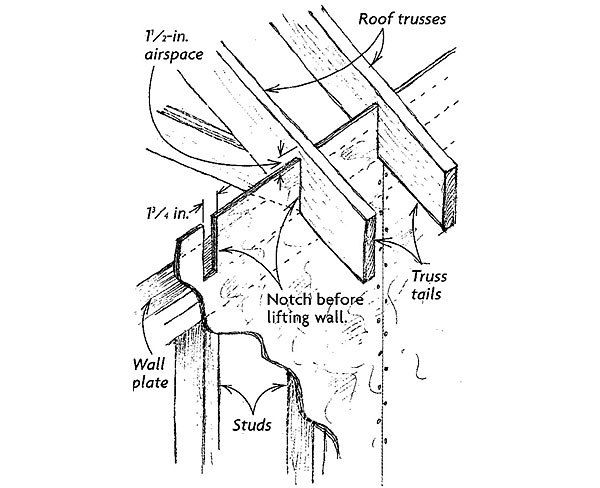 I switched to blown-in cellulose insulation in attics of new homes a few years ago. Watching the installers prepping one job, I saw the trouble they had to go to stapling cardboard insulation stops between the rafters or trusses above the exterior-wall plates to keep the insulation from falling down into the soffit.
I came up with the idea (see drawing) of letting the exterior-wall sheathing extend above the top plate and become an integral insulation stop when I was framing my next house. Instead of trimming 1 ft. off the last row of the sheathing to end it flush with the top plates, I decided to let it run above the plate. I calculated the height between the bottom and top truss chords at the point above the outside face of the exterior wall. Then I deducted 1-1/2 in. from the distance to leave a ventilation slot between the top of the wall sheathing and the underside of the roof sheathing, and cut off the rest.
After the wall sheathing was nailed on, I marked the roof-truss layout along the top edge of the sheathing and squared down the lines to the top-plate level. Then, before lifting the walls, I cut 1-3/4 in. slots for each truss to drop into.
The slots had an added benefit for truss installation: They quickly positioned each truss and allowed me to float the walls beneath until they could be tweaked straight. Then I could nail down the trusses.
I used expanding spray foam to seal any gaps between the truss and the wall sheathing so that no insulation would slip by. All in all, the extra work saved me more than it cost me in time because the insulators didn't have to charge for crawling on their bellies to staple up cardboard stops. And I think it's a better detail.
—Mike Guertin, East Greenwich, RI
Edited and illustrated by Charles Miller
From Fine Homebuilding #142