Design
A Modest Hacienda
In New Mexico, owners pitch in to create an up-to-date home with old-world charm.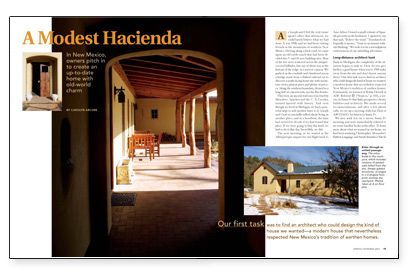 As Joseph and I left the real-estate agent's office that afternoon, we could barely believe what we had done. It was 1998, and we had been visiting friends in the mountains of southern New Mexico. Driving along a back road, we came upon an old cattle ranch that had been divided into 5- and 10-acre building sites. Most of the lots were scattered across the juniper-covered hillsides, but one of them was at the bottom of the ridge, in a narrow canyon. We parked on the roadside and clambered across a bridge made from a flatbed railroad car to discover a south-facing home site with mountain views, pinyon pines and plenty of privacy. Along the southern boundary, dressed in a long belt of cottonwoods, ran the Rio Bonito.
This river, an ancient trail once traversed by Mescalero Apaches and the U. S. Cavalry, seemed layered with history. And even though we lived in Michigan, we had a powerful urge to add another layer to it. Joseph and I had occasionally talked about living in another place, and in a heartbeat, the time had arrived to decide if we had found that place. If we were going to buy this land, we had to do it that day. Incredibly, we did.
The next morning, as we waited at the Albuquerque airport for our flight back to Ann Arbor, I found a small volume of Spanish proverbs in the bookstore. I opened to one that said, "Believe the wind." Translated colloquially it means, "Trust in an instant without thinking." We took it to be a serendipitous endorsement of our unfurling adventure.
Long-distance architect hunt
Back in Michigan, the complexity of the situation began to sink in. How do you give birth to a good house when you're 1500 miles away from the site and don't know anyone there? Our first task was to find an architect who could design the kind of house we wanted: a modern house that nevertheless respected New Mexico's tradition of earthen homes. Fortunately, we learned of Robin Dorrell at ADC Referral, a service in Santa Fe that links prospective clients, builders and architects. She made several recommendations, and after a few phone calls, we set up a meeting with Jon Dick of ARCHAEO Architects in Santa Fe.
We met with Jon on a snowy Santa Fe morning and were immediately relieved to see some familiar books in his office. To learn more about what we wanted in our house, we had been studying Christopher Alexander's Pattern Language and Sarah Susanka's Not So Big House. Both books were on Jon's shelf, and we took that to be a good sign. We were also impressed with his ability to dive into the topo map of our site, experiencing in a three-dimensional way what looked like an incomprehensible tangle of squiggly lines. He was already siting the house to maximize solar gain and to take in the view of Sierra Blanca, a mountain sacred to the Mescalero that dominates the landscape.
For more photos, drawings, and details, click the View PDF button below:
View PDF