Design
The Thoughtful Bath
A luxurious bathroom's character is borne by innovative technology and recycled materials.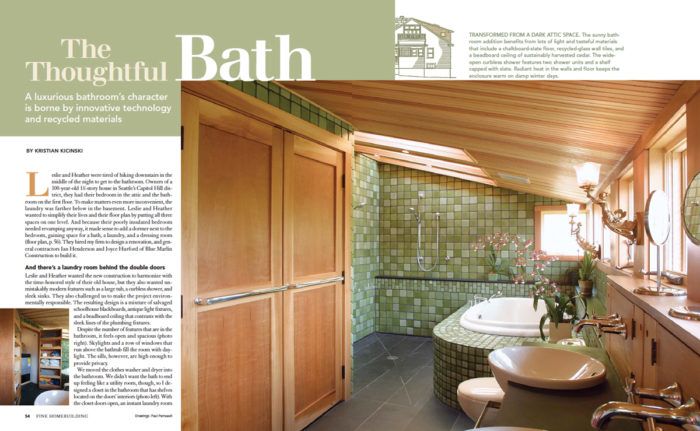 Synopsis: Transformed from a dark attic space, this sunny bathroom addition benefits from lots of light and tasteful materials that include a chalkboard slate floor, recycled glass wall tiles, and a beadboard ceiling of sustainably harvested cedar.
Leslie and Heather were tired of hiking downstairs in the middle of the night to get to the bathroom. Owners of a 100-year-old 1 1⁄2-story house in Seattle's Capitol Hill district, they had their bedroom in the attic and the bathroom on the first floor. To make matters even more inconvenient, the laundry was farther below in the basement. Leslie and Heather wanted to simplify their lives and their floor plan by putting all three spaces on one level. And because their poorly insulated bedroom needed revamping anyway, it made sense to add a dormer next to the bedroom, gaining space for a bath, a laundry, and a dressing room. They hired my firm to design a renovation, and general contractors Jan Henderson and Joyce Hurford of Blue Marlin Construction to build it.
And there's a laundry room behind the double doors
Leslie and Heather wanted the new construction to harmonize with the time-honored style of their old house, but they also wanted unmistakably modern features such as a large tub, a curbless shower, and sleek sinks. They also challenged us to make the project environmentally responsible. The resulting design is a mixture of salvaged schoolhouse blackboards, antique light fixtures, and a beadboard ceiling that contrasts with the sleek lines of the plumbing fixtures.
Despite the number of features that are in the bathroom, it feels open and spacious. Skylights and a row of windows that run above the bathtub fill the room with daylight. The sills, however, are high enough to provide privacy.
We moved the clothes washer and dryer into the bathroom. We didn't want the bath to end up feeling like a utility room, though, so I designed a closet in the bathroom that has shelves located on the doors' interiors. With the closet doors open, an instant laundry room is created. When the doors are closed, the machines are discreetly hidden away.
Bringing green design to the forefront
A big part of my job on this project was to help Leslie and Heather reconcile their dreams of a luxurious bathroom with their goal to be good world citizens. In our practice, we look for products that are socially responsible, contain recycled material, and use sustainably harvested resources.
All materials, finishes, and adhesives were considered for their effect on indoor-air quality. We used wet-blown cellulose insulation instead of fiberglass, and the clear finish we applied had no toxic fumes. "Using environmentally friendly materials is a good health practice for both the homeowner and the installer," builder Joyce Hurford said later. "For example, the incense-cedar ceilings were finished with OS Hardwax, which means we didn't have to breathe polyurethane or other noxious fumes during application. We learned a lot about the use of nontoxic materials, and we plan to use more of these products in the future."
For more photos, drawings, and details, click the View PDF button below:
View PDF