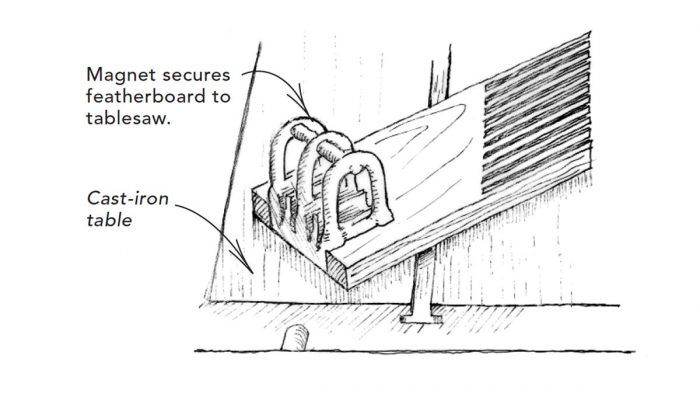 One day after painting the front of a house for eight hours, I looked at my painfully cramped hand and started thinking about alternative ways to hold a paint can. For some reason, my big magnet came to mind. I had bought it several years earlier when I dropped my new Hart hammer into an old pocket-door wall cavity while working in an attic. The next day, I stuck it to the bottom of my cut-bucket paint can, and it worked great.
The magnet, which costs about $35 and will lift 200 lb., is made by Edmund Scientific Co. (www.edsci.com). It has a 3-1/4-in.-square base and an aluminum frame with three horseshoe-shaped handles connected by a bar. Except for the bottom surface, the whole assembly is finished with a bright-orange PVC coating.
My hand wraps around the bar and through the horseshoes, with the palm pointing up. Maybe not the perfect grip, but a world of improvement over the other ways I usually hold a paint bucket. Because the hand is directly under the bucket, little cantilevered force affects my hand. The bucket is always less than half full, and the magnet's strength is more than enough to lean a bit without dropping the bucket.
After this success, I started thinking about other uses for the big magnet, such as a featherboard for holding a workpiece against a tablesaw fence during a cut. Recalling a magnetic featherboard that I had seen in a catalog, I scrounged a 5-1/2 in. by 15-in. scrap of cypress and cut a 45° angle on one end. I cut the featherboard's fingers on this end; then I put the magnet on the other end of the board, traced its outline, and cut it out. A little bit of rasping produced a snug fit for the magnet. I applied a coat of epoxy to the corners of this mortise to reinforce the split-prone cypress.
In use, the magnet's hold to the cast-iron table is terrific and hard to pull off. But it can be slid fairly easily for cut adjustments.
John Michael Davis, New Orleans, LA