Design
Designing Built-in Cabinetry
Designing built-in cabinetry: blend, break away, or mingle?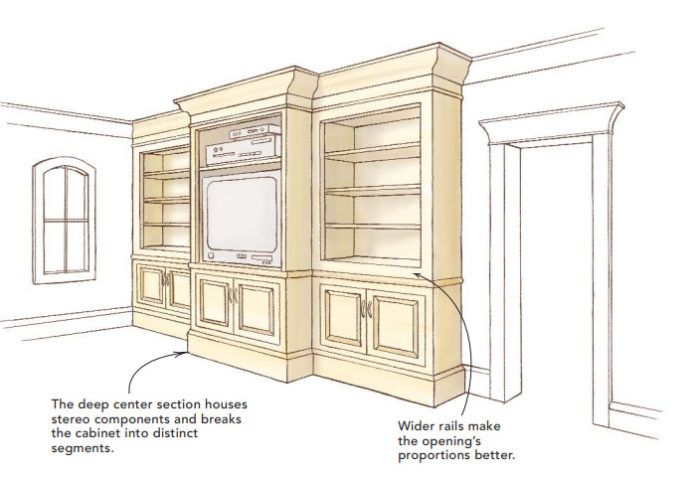 Built-in cabinetry is a great way to maximize square footage and to integrate good-looking storage into a room. But designing built-ins that combine utility with aesthetics is a fresh challenge with each project.
Size matters, regardless of style
Scale and proportion are the most important aspects of designing built-in cabinetry. Regardless of architectural style, the piece must fit comfortably in its room. Often, the functional goal of maximizing storage conflicts with the aesthetic context of the room.
Creative fiddling on paper often solves these problems with little loss of storage space. Changing stile and rail widths is one way of doing this: You can soften ungainly proportions by widening one or the other. Another way to make a massive piece look less clumsy is to break it down into smaller units. Base cabinets, paneled-in areas, breakfronts, stepped sections, decorative pediments, and other period informed detailing can help you to attain good proportions without losing storage. I often refer to pattern books such as The Elements of Style by Stephen Calloway and Elizabeth Cromley (Simon & Schuster, 1997) for period details.
Sometimes a cabinet's function dictates its divisions, as with entertainment centers and their bulky audio and video components. A breakfront cabinet with large doors may be mandatory here. But such factors should be seen as an opportunity rather than a constraint. You can create pleasing proportions by tweaking the major carcase sections.
Good scale and proportion are only a beginning. You can take several stylistic directions with trim details: fully integrated work, which seamlessly blends into the house's interior; non-integrated work, which introduces a new style; and referential work, which borrows design elements from the space but stands on its own stylistically
Continue a room's theme with integration
Appropriate in homes with a specific architectural style, fully integrated work repeats that style. In this way, a historic home can meet contemporary storage needs without an abrupt, inappropriate change-up in architectural style.
Integrating new moldings with the original ones is crucial to incorporating the cabinetry effectively. If the original isn't available, the new trim should speak the same language as the home's existing molding.
Make a statement: step apart from the room
If you want cabinetry that makes a bold design statement and stands on its own, scale and proportion may need to be newly minted, particularly in the context of modern or Asian-inspired work.
These styles are about abstract geometries. With basic carcase joinery, the visual impression of horizontal and vertical lines is the dominant design motif. Although classical rules of proportion may not be central to the design, ideally some specific organizing principle is at work.
Rule breaking can be fun, but it needs to be justified so that it doesn't result in impractical cabinetry. Adhering to abstract geometries, for example, can result in fixed-shelf cabinetry that doesn't hold the books and heirlooms it was intended to hold.
For more details and to see well-designed shelving systems, click the View PDF button below.
View PDF