How-To
Smart Vapor Retarder
MemBrain vapor retarder protects against condensation in winter, but allows for drying in summer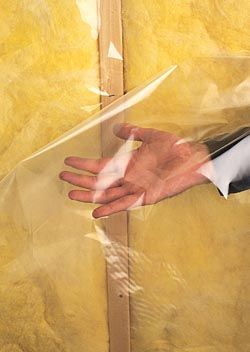 • Manufactured by CertainTeed Corp.
• 800-233-8990; www.certainteed.com
• Cost: $110 for an 800-sq.-ft. roll
Moisture can be a huge problem in houses, so keeping water vapor out of wall cavities—or allowing it to escape—is very important. In some climates, it makes sense to vary the permeability of the envelope so that moisture diffusion is blocked some of the time, but moisture is allowed to escape at other times. CertainTeed's MemBrain does just that.
MemBrain is a transparent film that becomes more or less permeable to water vapor as the relative humidity changes. It varies from less than 1 perm (nearly impermeable) at 20% relative humidity to more than 20 perms at 95% relative humidity. MemBrain vapor retarder protects against condensation in winter, and it allows for drying of the building envelope in summer, when humidity levels are higher.
Stronger and more durable than 6-mil polyethylene, MemBrain is intended for use in heating and mixed climates, not in cooling climates with high outdoor humidity or in buildings with high indoor humidity, such as those that house swimming pools or spas.
MemBrain was named one of Environmental Building News's top-10 green building products of 2004.
Photo: Courtesy of CertainTeed Corp.