Tools & Materials
Your Next Random-Orbit Sander
We smooth out the gritty chore of choosing this indispensable tool.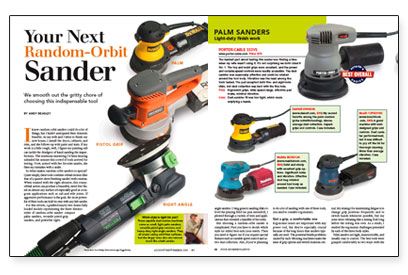 Synopsis: Our hands-on critique of the top 21 palm, pistol-grip, and right-angle sanders on the market. We give your our thoughts on the pros and cons of each model, and highlight the features that helped our six favorites (ranked by best value and best overall) make the final cut. Included is a useful sidebar with tips for smarter sanding that will make your job go easier, faster, and turn out better, regardless of which sander you're working with.
I knew random-orbit sanders could do a lot of things, but I hadn't anticipated their domestic benefits. As my wife and I labor to finish our new house, I install the doors, cabinets, and trim, and she follows up with paint and stain. If my work is a little rough, well, I figure my painting sub can tackle the drudgery of hand-sanding the imperfections. The mutinous muttering I'd been hearing subsided the minute this crowd of tools arrived for testing. Now, armed with her favorite sander, she fixes my mistakes with a smile.
So what makes random-orbit sanders so special? Quite simply, these tools combine orbital motion (like that of a quarter-sheet finishing sander) with rotation. When teamed with the right abrasive, this rotary-orbital action can produce a beautiful, swirl-free finish on almost any surface; it's especially good at crossgrain applications such as rail-and-stile joints. If aggressive performance is the goal, the most powerful of these tools can hold its own with any belt sander.
For this review, I grabbed nearly two dozen fully loaded models representing the three distinct styles of random-orbit sander: compact palm sanders, versatile pistol-grip sanders, and powerful right angle sanders. Using generic sanding disks to level the playing field (no pun intended), I plowed through a variety of tests and applications that revealed a handful of favorites.
But choosing a random-orbit sander is complicated. First you have to decide which style (or styles) best suits your needs. Then you need to figure out if you require special features such as variable speed control and active dust collection. Also, if you're planning to do a lot of sanding with one of these tools, you need to consider ergonomics.
Get a grip, a comfortable one
Ergonomic issues are important with any power tool, but they're especially crucial because of the long hours that sanders typically are used. The potential health problems caused by such vibrating machines make the issue of grip options and switch locations critical. My strategy for minimizing fatigue is to change grip positions frequently and to switch hands whenever possible, but my arms were vibrating like a tuning fork long before the testing was over. As a result, I studied the ergonomic challenges presented by each of the three body styles.
Palm sanders are light, maneuverable, and usually easy to control. The best tools were grasped comfortably in two ways: with the palm of either hand resting on top of the sander, or with a hand wrapped around the "waist" of the body. All the tools accommodated the top grip, but some ruined the second option with squat, chunky bodies or with dust bags that got in the way. The on/off switches were accessed easily, although the Ridgid R2600 and the Ryobi RS280VS employed slide-through controls that were too easy to turn on accidentally. I grew addicted to fiddling with the variable-speed dials and found that the Bosch 1295DVSK and the DeWalt DW423K were the easiest to adjust.
For more photos and details, click the View PDF button below:
View PDF