Design
A Tranquil Hill Country Homestead
With a wish list as a guide, a Texas couple and their architect built an inviting, accessible, and energy-efficient home.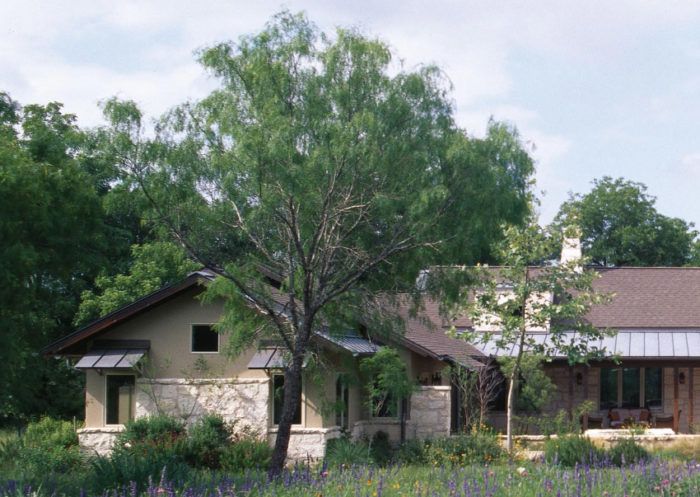 Synopsis: Bob and Linda Reed, a recently retired couple, had a seven-page list of ideas about what they wanted their new house to be. Most important, they wanted an environmentally friendly home that would fit their needs as they grew older and be a welcoming gathering place for their extended family. Working with Austin architect Sinclair Black, they achieved an innovatively designed house that takes full advantage of its site, uses minimal energy, and will suit them for years to come. Bob Reed tells the story.
My wife, Linda, and I had lived in Dallas and raised our four children there. We lived the urban life and had successful but stressful careers. When we retired, we decided to fulfill our dream of building a home in the beautiful Hill Country southwest of Austin. The Hill Country is unlike anything else in Texas: shimmering streams, majestic oak and cedar trees, rugged hills, and meadows full of wildflowers. We toured many lake developments west of Austin but found that boating- and golf-centered communities were too specialized for us. So we looked at properties along some of the rivers that carve their way through the limestone cliffs of the Hill Country. Near a small town with a vibrant community we found six acres of cedar-covered hills and wildflower meadows rolling down to a crystal-clear river.
We wanted to build an environmentally friendly home that would fit our needs as we grew older, a house that would be comfortable for two or for many. But what did that mean? How would we use our home now and as we grew older? And as our family changed and grew?
Developing a wish list
To help us figure out the answers to all these questions, we signed on Sinclair Black of Black + Vernooy Architects. We had interviewed a number of other Austin architects, but when we met Sinclair we knew that he was the one we wanted. We also quickly chose our builder, Charles Stockton, so that he could be part of the design team.
Sinclair suggested we write down what we wanted in our new home. I think he was expecting us to bring in a halfpage or so of notes. Instead we came to our first design meeting with seven typed pages of carefully crafted ideas.
We had thought about how we would use our home— for everything from solitary pursuits to entertaining— and what we had liked and disliked about our previous homes. After much discussion, and with our long list as a guide, Sinclair got to work and designed a home that fits us perfectly.
An inviting home for family, friends, and us
We wanted the main living spaces—kitchen, living, and dining areas—to be open to each other but not too large. The idea was that our home should feel spacious for entertaining guests and, at the same time, intimate for spending time alone.
Sinclair designed a cozy entry that opens to a large living and dining area. The walls and massive fireplace are of the same creamy limestone blocks that form the exterior of the house. Reclaimed longleaf pine was used for the ceiling's exposed trusses and the wide-plank floors.
While the focus of the living area is the fireplace, the room also comfortable for watching television. Cabinets flanking the fireplace house the TV and audio equipment. A small window seat with a slotted front hides the sub woofer for the stereo.
For more photos, floor plans, and information on how this home was remodeled, click the View PDF button below. 
View PDF