Design
A House in Hiding
It looks like a storage building. But beyond the barnlike facade, there's a comfortable cottage for two with a beautiful view.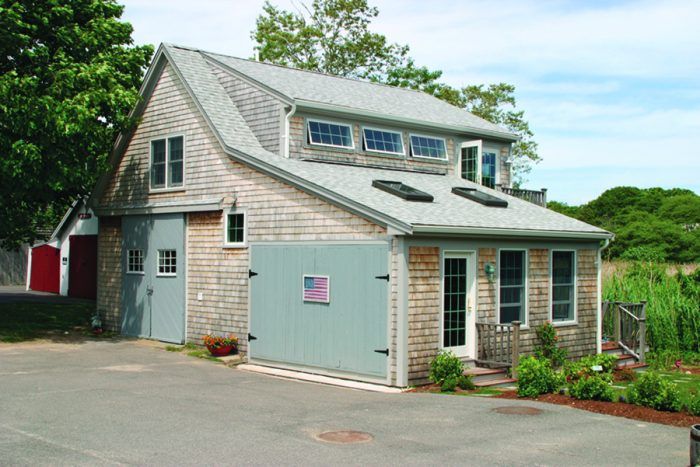 Synopsis: A former carriage house on Cape Cod becomes a retirement home for a retired couple. Finished photos and a floor plan illustrate how the space was adapted for a new use while still looking like a carriage house from the street.
Things are not always what they seem. And in the case of this small house on Cape Cod, that's a good thing. The house's barnlike facade faces a street that buzzes with beach traffic from April to October. Beyond the big doors, you'd never guess there's a quiet, cozy retirement cottage designed for accessibility, privacy, and beautiful views of a nearby salt marsh.
This story begins a couple of years ago when my sister, Colleen, bought a home on Cape Cod. The property included an outbuilding that had served as a carriage house in the 1800s.
Whenever I visited, I found myself wandering in and out of the carriage house, taken by its charm and by lovely vantage points from upstairs windows. When my father's health started to decline, he and my mom began to think about finding a smaller place closer to their kids. I suggested that they move into an updated version of the carriage house. They'd end up with a great retirement home, and I'd have the chance to transform this charming old outbuilding.
Preserving the facade and the footprint
The building we had to work with was a 1 1⁄2-story structure with a lean-to addition on one side. Given the proximity to a busy street and the need to preserve some ground-floor space as a storage/workshop area, we decided that the barnlike facade could provide effective camouflage for the home behind it.
We also had to contend with the numerous state and local building regulations. Because the carriage house sat within 100 ft. of wetlands, adding on was not an option. Furthermore, the planning and permitting process included hosting a tea with a woman who had summered in the carriage house as a young girl in the 1940s. The tea and the affidavit she signed afterward were vital for us to have the carriage house grandfathered under local zoning laws as a residence.
Tearing down before building up
Long before the renovation became a realistic option, I had a revised floor plan laid out in my mind. First, the existing plan for the second floor — with its living space in front and sleeping area in back—had to be reversed.
Additionally, part of the unfinished first floor, home only to paint cans, kayaks, and some out-of-work lobster pots, had to be included in the new plan if we were to have enough space for a full-time residence. The house's total living space would be only about 1200 sq. ft., but by maximizing the use of space, it would be roomy enough for a comfortable home.
For more photos, drawings, and details, click the View PDF button below:
View PDF