Pivot-Point Solution
Site restrictions and environmental concerns required a "bend" at the center of the house, which keeps the scale in check.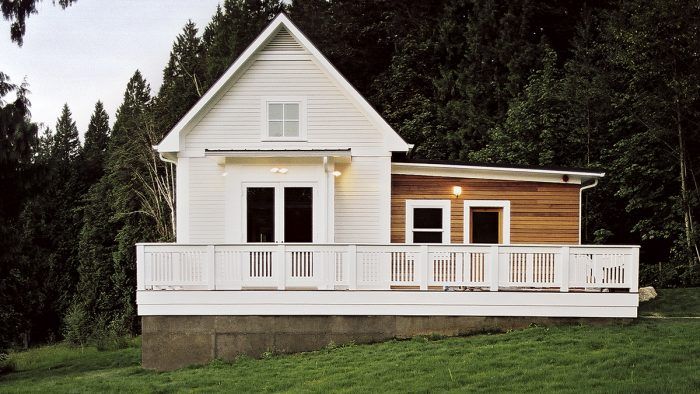 The form of this house is a response to the environmental conditions, which included required buffers from nearby wetlands, a natural stream, and an existing well. Building on the already disturbed site of an existing mobile home reduced additional impact on the site, while leaving a portion of the seven acres relatively untouched.
The "bend" at the center of the house is a direct result of these restrictions. This pivot point created a few advantageous design opportunities—the biggest of which was keeping the scale in check. The bulk of the building's length visually disappears when viewed from the majority of exterior angles. The one-story eastern side of the house has a modest profile, and is broken up with two lower "sheds" sided in clear-finished cedar. Seen broadside from farther away, the western side of the house is appropriately stately. The orientation allows the high window in the south gable to bring light deep into the kitchen.
Sustainability measures included advanced framing methods to minimize wood and maximize insulation. The framing is stacked to create a direct load path from roof to foundation. In the center section, the framing pivots around the main entry and stair connecting all three floors.
As the homeowners intend to age in place, the linear main-floor plan keeps all essential elements on one level. From the entry, the space opens out and down, following the topography. The distant view is framed by two mature cedar trees—another decision made to tie the home to its site.
Designer Harrison Architects, harrisonarchitects.com
Builder Phoenix Construction, myphoenixconstructioninc.com
Location Woodinville, Wash.
Photos Rob Harrison, courtesy of Harrison Architects
From Fine Homebuilding #298