Design
In Search of the Perfect Screened Porch
Make the right design choices, and you'll have an outdoor room you can enjoy without battling the bugs.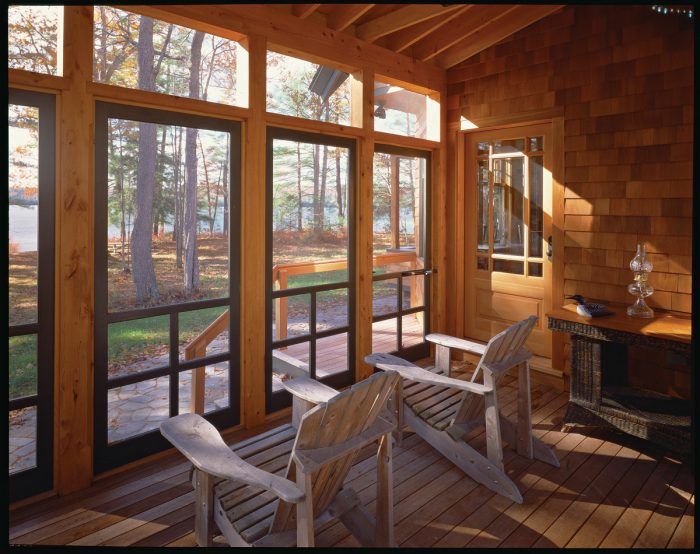 Synopsis: An odd combination of framing and finish work, screened porches are exposed to the weather and must be detailed carefully. This article looks at the choices required for a great porch, from how to frame it to what kind of screen to use. There are also photos and drawings of four different porches, each with unique construction details.
Replacing a dilapidated deck on the back of our house with a new screened porch was the best renovation money I have ever spent. The outdoor space has the feel of a room, and we use it for everything from drinking coffee and reading the paper in the morning to eating supper at night. Best of all, it's free of bugs.
That, of course, is the whole point, no matter what the porch's style or size. Without this refuge, enjoying the great outdoors in summer means fighting a losing battle with creatures that bite, sting, and just plain annoy.
With increased exposure to the weather, larger-than-average wall openings, and less structural bracing than other rooms in the house, screened porches pose special construction and detailing challenges.
Whether the porch is designed for a shingle-style cottage on Martha's Vineyard or a contemporary lakeside house in Michigan, decisions must be made about designing the floor system, framing the walls to accommodate the screen openings, and attaching the screening. Builders and architects have approached these challenges in many ways. The best screened porches, however, are easy to maintain, are bright and airy, and exhibit inspiring craftsmanship.
Frame the floor for maintenance
Most screened porches are built over wood framing and flooring, but Virginia builder Scott McBride, like others, also has built them on masonry surfaces over a concrete base. The advantage, he says, is that a stone, brick, or concrete surface is highly resistant to wear, won't decay, and is cool underfoot.
Screened porches built over wood framing raise at least one prickly maintenance problem. If porch walls are built on top of the flooring or the decking, it is difficult to replace flooring down the road when the weather takes its toll. The trick is to isolate the wall framing from the flooring material. Some common methods are adding an extra joist a few inches from the wall's bottom plate to support the ends of the flooring, connecting the posts directly to the floor framing and fitting the floor pieces around the posts, or using a 2×8 coping to support the wall.
For more photos, drawings, and details, click the View PDF button below:
View PDF