Design
Small Baths That Live Large
Two remodeled bathrooms showcase strategies that make small spaces feel roomy, without big changes.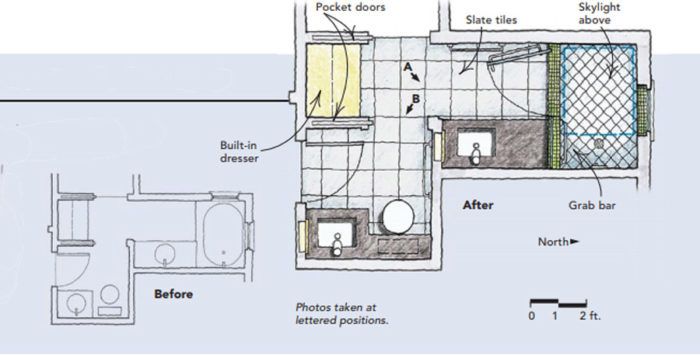 Synopsis: Bathroom remodels are among the most expensive changes you can make to your house, especially when you start moving fixtures around. With that in mind, architect Russell Hamlet kept the floor plans intact for both the upstairs and downstairs baths in this house, concentrating instead on improving the fixtures, finishes, and lighting. Glass mosaic tiles splash brilliant color across the walls of each bath. Extensive listings include sources for vanity lighting, heaters, bathroom fans, and cork flooring selections.
The real-estate market has been tight on Bainbridge Island, Wash., for years now. Its location in Puget Sound, just a ferry-boat commute from Seattle, has made it a highly desirable place to live. So those who are shopping for a house on the island have to be ready to pounce on a new listing as soon as it comes up. Either that, or figure out how to fix whatever was wrong with a house that kept it on the market for a while.
The house that Ken and Lisa purchased in 2001 fell into the latter category. Built in the '20s, their attractive cottage-style home is in a desirable neighborhood of modest older homes. They credit the two dismal bathrooms as the Achilles' heel that drove off potential buyers, allowing the house to remain on the market long enough for them to get it. The bathrooms were cramped, chopped-up rooms pasted together from a hodgepodge of materials. After putting up with them for a couple of years, Ken and Lisa decided to create a pair of inviting bathrooms that were in keeping with the rest of the house. But they wanted to do it within a relatively modest budget. We started at $50,000 for both baths. Once Ken and Lisa decided on finishes and fixtures, the budget grew to $70,000 max.
To stay on budget, it was important to stay within the existing footprint of each bathroom. This presented an excellent design challenge: Create rooms that feel larger and more comfortable by reproportioning the spaces; by adding light and color; and by simplifying the materials, fixtures, and details.
We also kept the parts worth keeping. The existing toilet in the upstairs bathroom was a low-flow model that worked well and was in good condition. Its low tank height fits in with the new, extended vanity top that carries over it. We also kept all of the doors, the built-in dresser/cabinet, storage shelving, and much of the trim.
The upstairs bath
The second-floor bathroom is divided into two areas that are connected by a pocket door. A half-bath opens to the stair hall, and a second space for bathing (also containing a sink) opens into the master bedroom. This multi-function plan combines storage and flexibility into a pretty small package, and it made sense to stick with it. But the sunken tub had to go. It was a deep, jetted tub that required so much water and made so much noise that nobody ever used it. A walk-in shower instead of a tub made a lot more sense.
We opened up the room with a skylight over the shower, infusing the entire room with natural daylight. The skylight well hides the bathroom-fan grille and includes a light fixture that illuminates the shower at night.
For more photos and information on these bathroom remodels, click the View PDF button below. 
View PDF