Tools & Materials
Choosing an Air Compressor You Can Carry
Hot dog, pancake, or twin tank? Let your tools' appetite for air determine which one to buy.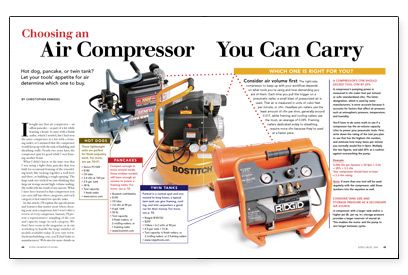 Synopsis: Looking to buy a portable air compressor, but not sure which one to choose? In this in-depth buyer's guide, we explain the characteristics of the three types: hot dogs, pancakes, and twin tanks. You'll also find a discussion of terms like cfm, psi, and oil lube vs. oilless, and you'll learn why they're important in informing your decision. Whether you're a homeowner, finish carpenter, framer, roofer, remodeler, or flooring contractor, you'll appreciate a handy formula to help you choose the appropriate compressor size for the tools you use and the work you do. Although not a traditional tool review, this article makes sense of the confusing world of hand-carry air compressors and highlights a few models within each of the three categories.
I bought my first air compressor—an oilless pancake—as part of a kit while framing a house. It came with a finish nailer, which I needed, but I had seen the same compressor in a kit with a framing nailer, so I assumed that the compressor would keep up with the task of building and sheathing walls. Nearly two years later, the compressor quit for good while I was framing another house.
What I didn't know at the time was that I was using a light-duty pancake that was built for occasional framing of the remodeling kind, like tacking together a wall here and there, or building a rough opening. The large tank size tricked me into thinking that large air storage meant high-volume nailing. My wallet felt the result of my naiveté. What I since have learned is that compressors you can carry fall into three categories, and each category is best suited for specific tasks.
In this article, I'll explain the specifications and features that matter most when choosing your next compressor, but I won't offer a review of every compressor. Instead, I'll present a representative sampling of the cost and capacity range in each category.
Portability vs. power is a tricky equation
It makes sense: Trading up for more power means you give up compact size. But with compressors, this formula isn't quite that simple. In each of the three portable categories, models of similar size and weight can have different air-supply capabilities.
As explained in the article sidebar, cfm rating and tank size can help you to determine if a compressor will handle the demands of the pneumatic tools you plan to use. But you'll also need to consider future needs and what the compressor manufacturer says about a pump's duty cycle, the percentage of time that the motor and the pump can run without risk of burning out.
Overworking the compressor
Once you've used the air in the storage tank and the pump kicks on, the gun may not drive nails all the way because it's not getting enough air. This may seem inconvenient, but it's really a warning. If you keep it up, you'll eventually burn out the compressor's motor.
Compressors have a duty-cycle rating that refers to the percentage of time it's OK to run. Most come with a duty cycle of about 50%, which means that the compressor shouldn't run more than a half-hour for every hour it's used. Running most compressors more than 50% of the time causes excessive wear on the pump and the motor. However, some manufacturers, like Thomas, have designed many of their compressors to run 100% of the time, making duty-cycle rating a nonissue.
For more photos and details, click the View PDF button below:
View PDF