How-To
Think You Can Identify This Tool? #4
This month, the mystery implement is an antique multi-tool. If you know the name of this tool, Email us your entry, with "Mystery Tool #4 – August" in the subject line. Along with your guess, please include your mailing address and your telephone number.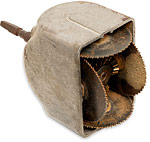 Last month's mystery tool is a bit-and-brace-driven outlet cutter used on lath-and-plaster walls. Our randomly picked winner for July is Randy York of Naples, Florida. Congratulations, Randy!
Tools may be known by different names in various parts of the country, but there is a common, accepted name we're looking for. So even if you and your buddies call it this, but we're looking for that, the final decision is left to the editor. Sorry, those are the breaks.
To make the competition fair to those who receive this email at home and don't see it until the evening, all correct answers received in the first 24 hours will be put into a hat, and one winner will be drawn. Good luck!
Photos: Chuck Bickford