Design
La Jolla Jewel
Ocean views on top, multicar parking below, lots of light in between.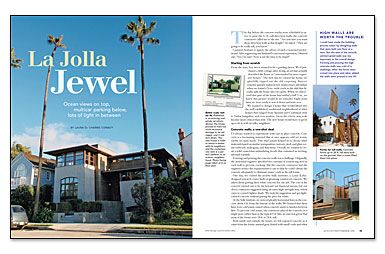 Synopsis: After deciding that her small house was damaged beyond renovation, architect Laura Du Charme Conboy designed a replacement: a modern-style house with tall concrete walls. The interior blends the cool look of cast-in-place concrete, glass, and steel with warmer, earthy materials like redwood, mahogany, and limestone. The house includes a rooftop deck and a lower-level garage with parking space for three cars and an exercise room.
The day before the concrete trucks were scheduled to arrive to pour the 12-ft.-tall driveway walls, the concrete contractor called me to the site. "Are you sure you want those driveway walls at that height?" he asked. "They are going to be really tall, you know."
I paused, hesitant to ignore the advice of such a seasoned professional. After registering my husband's concerned expression, I blurted out, "Yes, I'm sure! Now is not the time to be timid!"
Starting from scratch
From the start, fear never seemed to be a guiding factor. We'd purchased a little cottage after seeing an ad that actually described the house as "surrounded by more expensive homes." The first day we owned the house, we gleefully ripped out the old carpeting. Buyers' remorse quickly replaced new-homeowner adrenaline when we found a 3⁄4-in.-wide crack in the slab that literally split the house into two parts. When we discovered that part of the house had settled a full 1⁄2 in., we knew this project would be no remodel. Eight years later, we were ready to tear it down and start over.
We wanted to design a home that would blend into the well-established, traditional neighborhood of older homes that ranged from Spanish and Craftsman style to Tudor, bungalow, and even modern. Given the eclectic mix, scale became more critical than style. The new house would have to grow up to fit in with its taller neighbors.
Concrete walls: a one-shot deal
I'd always wanted to experiment with cast-in-place concrete. Concrete is a fascinating material that at once appears cold yet warm, earthy yet man-made. This dual nature helped us to choose other materials based on similar juxtaposition: mirrors, steel, and glass versus redwood, mahogany, and limestone. Overall, we wanted to create a solid, somewhat intimidating facade that contained an inviting, internal warmth.
Forming and pouring the concrete walls was a challenge. Originally, the structural engineer specified two curtains of reinforcing steel in each wall to prevent cracking. But the concrete contractor had the engineer reduce the requirements to one so that he could vibrate the concrete adequately to eliminate major voids in the tall forms.
One day, we visited the nearby Salk Institute, a Louis Kahn-designed research center built of gleaming reinforced concrete. We asked about getting their white concrete for our job. The cost of the concrete turned out to be far beyond our financial means, but our clever contractor suggested using an extra-high-strength mix, which cures to a much lighter shade. We took his suggestion and got light-colored concrete without paying the price for white.
At the Salk Institute, we noticed ghostly horizontal lines in the concrete about 4 ft. from the bottom of the walls. We learned that these lines were cold joints caused when concrete starts to harden between lifts. To prevent cold joints, our contractor placed the concrete in a single pour rather than in the typical 4-ft. lifts, no easy feat given that most of the forms were 18 ft. to 28 ft. tall.
For more photos, drawings, and details, click the View PDF button below:
View PDF