How-To
What type of joist hangers should I use with pressure-treated wood?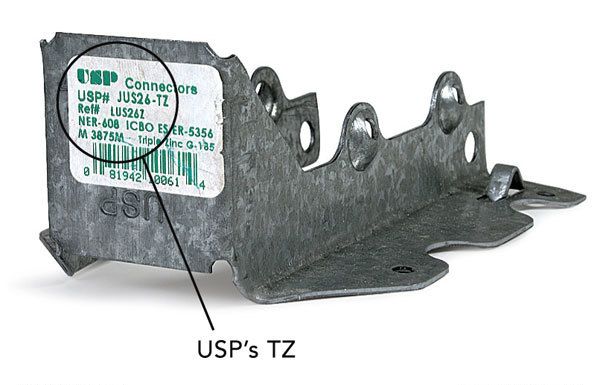 Q:
Recent "Breaktime" threads about joist hangers and the new pressuretreated lumber indicate that some builders use only stainless-steel joist hangers and nails. But in FHB #178 (p. 30), Mike Guertin uses a self-sticking waterproofing membrane (Vycor Deck Protector) with regular galvanized hangers. Who's right?
Dennis Brown, via email, None
A:
Associate editor Daniel S. Morrison replies: They're all right, but Mike is thriftier. The new generation of pressuretreated wood (alkaline copper quaternary, or ACQ, and copper azole, or CA) is more corrosive than the old stuff (chromated copper arsenate, or CCA), which is why some builders have switched to stainless-steel hangers and nails.
Mike is using Vycor Deck Protector to separate a standard galvanized joist hanger from the copper in the wood preservative, thus protecting the hanger from corrosion. This solution is effective and inexpensive. Stainless-steel hangers and fasteners are the best (and also the most expensive) solution.
Another alternative is to use triple-galvanized joist hangers and fasteners such as Simpson's ZMax line of connectors and USP's TZ line. These products are manufactured specifically for the new pressure-treated lumber. For a lot more information, see Pressure-Treated Wood: The Next Generation.
Krysta S. Doerfler