Cordless-Drill Service Station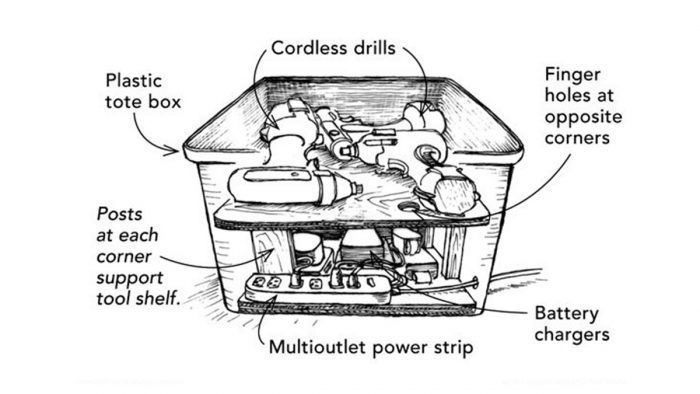 For all the battery-operated power tools I use, I sometimes forget to bring my chargers. You need to run out of juice only once to know you have to remember the chargers. So I solved that problem by building a portable charging station/tool tote.
I started with a plastic tote box with a lid, available for less than $10 at a big-box store. I measured the bottom and cut a piece of scrap 3/4-in. plywood slightly smaller than the bottom of the box. I then chose three of my most commonly used chargers and fit them on the board, mounting them through their mounting holes, or using ties as needed. I also mounted a multi-outlet strip to the board and drilled a hole through the box for the cord. Then, based on the height of my tallest battery, I cut supports to accommodate a second storage level for my drills. I glued and screwed the supports to the bottom scrap of plywood. Then I measured and cut a piece of 1/2-in. plywood for the second level, drilled some finger holes, rounded over the edges, and sanded.
I now carry the whole box with me to the job site, and I know if I have my box of battery-operated drills in the field, I've always got my chargers, too. The entire station is kept in a handy place in my shop for daily use.
Tom O'Brien, New Milford, CT
Edited and Illustrated by Charles Miller
From Fine Homebuilding #184