Tools & Materials
Laser Levels: Bet You Can't Buy Just One
Combining the capabilities of dot, line, and rotary lasers will send your other layout tools into retirement.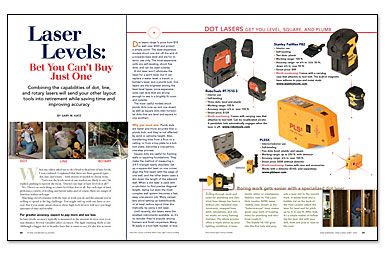 Synopsis: First things first: There's not one laser level that does it all. That said, this overview by contributing editor and veteran carpenter Gary M. Katz will direct you to the best type of laser level for you. Katz describes the three basic styles of laser level (dot, line, and rotary) and outlines the tasks each one is best at handling. He also discusses indoor versus outdoor use. Included are examples of each type of laser level, along with information on how they can be used to maximize their potential.
When my editor asked me to do a head-to-head test of laser levels, I was confused. I explained that there are three general types — dot, line, and rotary — with dozens of models to choose from. "Let's test the levels most of our readers are likely to use," he replied, pushing to narrow the focus. "Doesn't one type of laser level do it all?"
No. There's no such thing as a laser level that does it all. But each type of laser performs a variety of leveling and layout tasks, and of course, there are ranges of function within each type.
Matching a level's features with the type of work you do and the amount you're willing to spend is the big challenge. You might end up with one laser or several. But if you make smart choices, these high-tech devices will save you huge amounts of time and trouble.
For greater accuracy, expect to pay more and see less
In laser levels, accuracy typically is measured in the amount of error over a certain distance. Several variables affect accuracy. The light-emitting diode is one. Although a bigger dot or broader laser line is easier to see, it's also less accurate because level can be anywhere within the width of the projected light. Better-quality diodes emit tighter dots or lines. Most lasers emit red light, but some manufacturers are offering green lasers, claiming that green is more visible. While this might be true, the technology required to project green light requires significantly more power than red light, so batteries don't last as long.
The self-leveling mechanism built into more-expensive laser levels also has a bearing on accuracy. The mechanism contains a tiny internal pendulum as well as magnets that dampen the pendulum's movement, keeping the diode stationary when someone walks across the floor. Too much dampening can have an adverse effect on accuracy.
Although it's true that more-accurate laser levels usually cost more than less-accurate models, the degree of accuracy required really depends on the work you do. Not everyone requires 1⁄8-in. accuracy over 100 ft. Foundation and grading contractors may require that degree of precision, but many carpenters would be thrilled with reliable accuracy of 1⁄4 in. over 50 ft. When buying any laser level, check the accuracy rating given by the manufacturer, and make sure it meets the tolerances for the work you do.
Detectors make laser levels more versatile
In the past, many laser levels could be used only indoors, in rooms that weren't too bright. Today, improvements in laser technology have overcome both brightness and distance limitations. All three laser-level categories — dot, line, and rotary — feature models that can be used with a detector. This device can be positioned some distance away from the laser's diode and moved up or down until the detector picks up the level projection, blinking or beeping in response.
For more photos and details, click the View PDF button below:
View PDF