Design
Pathways to a Simple Home
In an excerpt from her book, The Simple Home, architect Sarah Nettleton describes the process behind creating a home that embodies "the luxury of enough."
Why the Simple Home?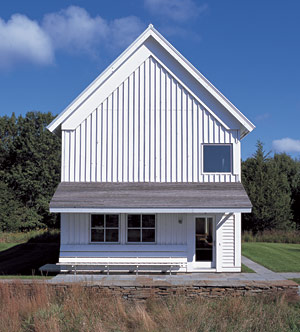 Many Americans long for a simpler life—and there are myriad books and guides to help us find it in daily routines and at work. Yet, most of us are unpracticed in describing to someone else (or even to ourselves) what a simple home for that life would really look like. We sense that something's missing in our hurried routine, but we have no idea where to begin the editing of complexity.
In my book, we embarked on an exploration of 21 simple homes across the country and the experiences of the people who built them. These houses and their owners' journeys offer a fascinating counterpoint to the way most people buy new houses in the developer market today.
Pathways to the Simple Home
These 21 houses are organized into six pathways by which people have asked what simple truly means for them in both their lives and homes. Ranging from thrift to flexibility in design, these paths can help you consider your own home and how to simplify it. The paths are as follows:
Simple is enough
A simple house is a positive affirmation of "the luxury of enough." By this we mean that designing a simple home starts with figuring out how much you really need and what you can eliminate. The luxury of enough means confronting the fact that you really don't need an eight-burner stove and the larger kitchen to house it. Forty years ago, utility used to be a bad word in house design. In the 1950s rambler, the utility room was not exactly a showplace for guests. But today, many utilitarian buildings, such as warehouses and old barns, are very desirable locations for new housing and workspaces. They were designed for pure function for storage and industry, yet today they work brilliantly for open-plan living. They offer the luxury of space in a world of clutter.
Simple homes are often rectangular, sometimes square, and always "just enough," whether in terms of dormers, quantity of bathrooms, or square footage. In this pathway, we visit homes that reflect the way their owners choose to live rather than an image that they want to present to the street. These designs for "enough" appear deceptively simple because they actually grow out of a lot of careful decision making.
Simple is flexible
In simple homes, rooms are used in many ways. They serve multiple purposes. Think of an old farmhouse kitchen. Throughout the day and night, people gathered here. At noon, the farmer and the field hands ate their dinner. In the afternoon, the children studied by the warmth of the cookstove. In the evening, the family gathered for supper. In this pathway, we visit a modern addition, a new house, and a small barn that express these qualities today, where kitchens are once again places for all-day activities such as entertaining, dining, and reading. Such multipurpose rooms work for a large gathering or for a cozy moment with a cup of tea. A simple space is a flexible stage for living rather than a straitjacket set of single-purpose rooms.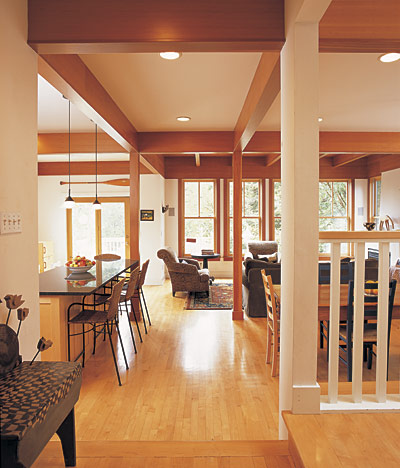 Simple is thrifty
Simple homes are often thrifty in both economic and ecological terms. In this pathway, we explore the efficiencies of open floor plans, expedient building massing, and a cost-saving central utilities core. In the houses we visit, thrifty design considers long-term "life-cycle" costs such as heating, cooling, and maintenance. It affords summer cross-ventilation rather than immense air-conditioning systems.
Simple thrift helps to make life in expensive places affordable. In Brooklyn, we visit a new infill townhouse designed with thrifty modern cement-board siding that complements a 19th-century rowhouse district. From inside and out, it's a clearly modern place, but it also fits into the neighborhood and the contemporary lives of the parents and kids who live there. Respecting the historic context of its neighbors, this simple row house is an affordable solution to having a home, a yard, and even a garage in one of the most expensive cities in
the world.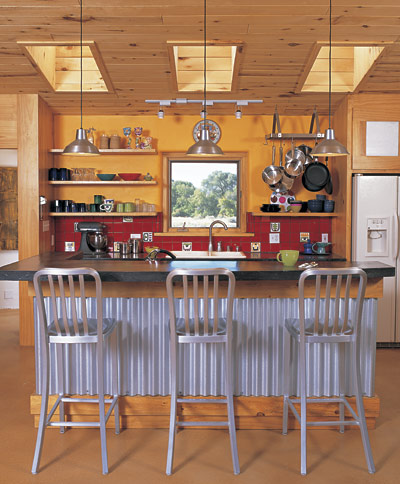 Simple is timeless
Because simple homes are not about impressing other people or keeping up with fashion, they tend to be timeless. They can be folk-vernacular, like a New Mexico adobe; informal, like a beach house in Florida; or even very modern, like a corrugated metal-clad cabin in Washington State. Simple homes are not designed with a single style or size. Their owners ask timeless questions in the process of designing them, questions that address the local landscape, how much space they really need, and how they want to socialize. Simple homes answer these questions with lasting materials and direct solutions, such as well-proportioned hallways and living rooms rather than the trumpery of decoration and nonfunctional dormers, archways, and gables.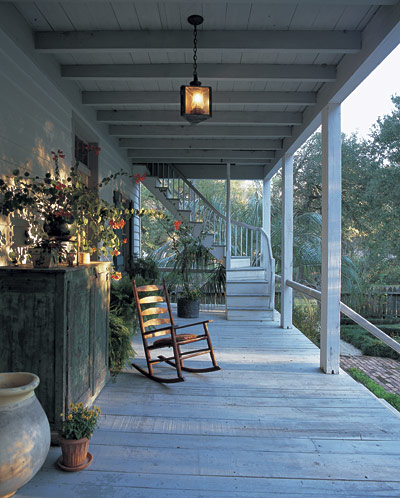 Simple is sustainable
Sustainability is a trendy architectural idea that has actually been part of residential construction for thousands of years. Simple homes and sustainable design are often the same thing. In this pathway, we explore simple daylight, siting, and ventilation strategies that are available to everyone. You do not need advanced technologies or expensive products to achieve the spirit of sustainable design.
On the South Side of Chicago and the North Shore of Lake Superior, we visit houses that make the best use of today's sustainable building materials and mechanical systems to reduce energy consumption and waste in an old front-porch neighborhood. Whether in the woods or on the street corner, we find that sustainable design practices are really grounded in common sense, and there are reasons to pursue them no matter where you live.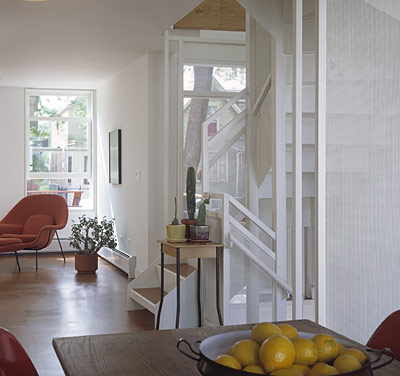 Simple is resolved complexity
Simple design gets to the essence of things, whether they are local building materials, the landscape where you live, or your family's daily routine. The simple home resolves seemingly complex needs and desires into a well-refined vision for the spaces you will need based on how you use them. The houses in this section tell stories of people who found that they needed less space and fewer rooms than they ever thought possible. The result is that the simple home becomes a tailored glove that fits so well you forget it's there. Living there ultimately involves less upkeep, less stress, and more time for other things.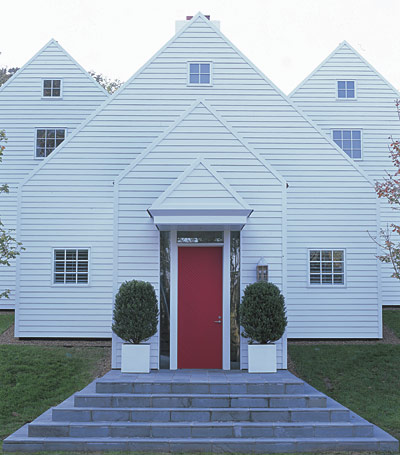 Sarah Nettleton, AIA, has been an architect in Minneapolis since 1987. Her firm, Sarah Nettleton Architects, focuses on house and landscape, with an emphasis on sustainable design. Sarah is Adjunct Professor at the University of Minnesota Architecture School and taught architectural technology at the Minneapolis Technical College for 11 years. Photos by: Randy O'Rourke