Design
A Closer Look: Growing Family, Growing Bungalow
Tripled in size, this house went from a weekend cottage to a home for four and still fits quietly into its old neighborhood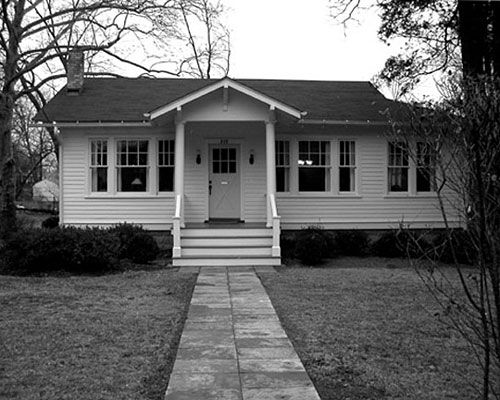 Wouldn't we all love the chance to rescue an old, favorite house in our childhood neighborhood and bring it back to its original glory? Architect Charles Moore did just that.  Only, he went beyond a classic restoration by adding second and third floors and reconfiguring the spaces below. And, he did it while retaining and enhancing the Craftsman-style details he loves, seamlessly integrated with sleek, modern materials. 
Read more about how Moore tripled the size of his house without adversely affecting the character of his neighborhood — or his charming bungalow in the article Growing Family, Growing Bungalow.
Photos by Brian Pontolilo, except where noted
Before the addition, owner and architect Charlie Moore fell in love with this small Craftsman-style bungalow in Falls Church, Va., when he was a teenager. After buying and restoring the single-story house, Charlie faced a dilemma: move to a larger house with room for his growing family or add on to the charming cottage. Photo: Courtesy of Moore Architects
The solution: Add a second story and an addition to the back of the house, but use details like subtle shed dormers to maintain a cottage feel. Photo: Anice Hoachlander, Hoachlander-Davis Photography
Where a first-floor bedroom once was, a hallway with stairs leading up to the second floor and down to the basement connects the original house with the new addition beyond.
 From the second floor, a modern metal and wood staircase leads up to a third-floor office and light monitor.
The third-floor office is a place for the homeowners to work from home. With operable windows facing three directions, the office also functions as a light monitor, directing sunlight all the way down to the first floor, and as a means of passive ventilation, exhausting hot air from the house.
A wide opening between the kitchen and the breakfast room offers the cook long views to the private backyard.