Design
Copper/aluminum flashing
Soliel Stepflashing
• Manufactured by York Manufacturing
• 888-819-2592; www.yorkmfg.com
• Cost of 5-in. by 7-in. piece: 55¢ to 70¢
Peanut butter and jelly, ham and eggs, Lewis and Martin—some things just go together. Yet when I saw York Manufacturing's new Soleil flashing material, something seemed amiss. Copper on one side and aluminum on the other? Because they're at opposite ends of the galvanic scale, I sensed a battle looming, and inevitable disaster for the aluminum. However, the York staff assured me they've been perfecting the lamination system for some time.
York uses a special adhesive to bond a thin copper layer to an aluminum base, isolating the two dissimilar metals. The result is a flashing material that combines aluminum's low cost and stiffness for the body, and copper's ageless look and durability for the face.
On the plus side for buyers, Soleil flashing is just one-third the cost of regular copper. Initially, Soleil will be available only for step flashings. Later this year, York will begin offering prebent window and door drip-edge flashings with special detailing to accent the copper look. I had a chance to try a sample roll of the new material. It's thicker than standard mill-finish aluminum step flashing, and the shape doesn't distort. The step-flashing cards can be bent by hand for an eased corner, or with a hand brake for a crisp bend. With Soleil, I can turn the ¾-in. to 1-in. space between roofing and siding along a sidewall from ugly to eye-pleasing.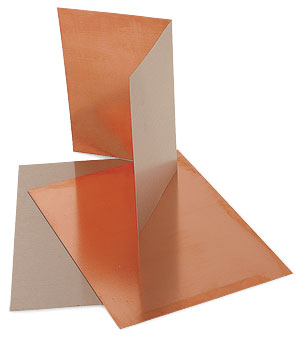 Photo by Krysta S. Doerfler