How to Install Cable Rail Around Wood-Post Corners
Use these tips to keep cables tight and straight for a professional-looking deck-railing job.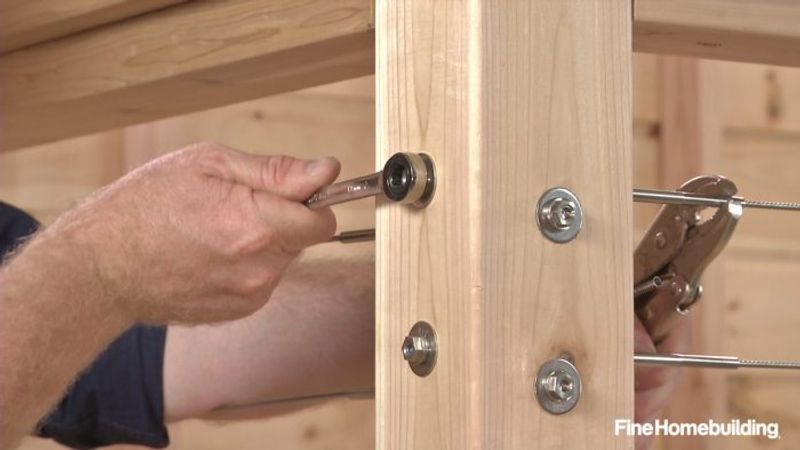 Cable railings offer a clean look and low maintenance. Installing cable railings around a corner with wooden posts is straightforward, but varies depending on the look you're going for.
Here's how it's done:
Single Post:
Individual cables can't run continuously around single-post corners. Instead, each cable terminates at the post. One set of cables runs out one side of the corner, and another set runs out the other side.  The two sets of cables can't intersect inside the post; they need to be staggered about 1/2 in. Here, we created a jig cut 1/2 in. shorter than the height between the decking and top rail to make it easy to drill holes with the desired stagger. After drilling the holes, guide the threaded end of each cable into each hole and secure this end with a nut. After everything is properly tensioned, the nuts can be capped for a more finished look.
Double Post:
Double-post corners allow you to wrap single cables continuously around corners without any offset, so the cable remains in the same plane as it turns the corner. After drilling the holes, install protector sleeves in the posts to protect the wood from getting marred by the cables when they're tensioned. A threading needle can make it easier to thread the cable through the holes by preventing the individual cable strands from catching on the sides of the holes. Securely fasten cables to a terminal post beyond the corner, then tension the cables.
Links related to cable railing:
www.feeneyinc.com – Find more information about railing options and installation techniques for the cable railing featured in this video
Railing Retrofit — New posts, a cable-rail system, and an applied rim board breathe new life into a weathered deck.
Simple Screened Porch — Inexpensive screen panels combined with cable railings create a clever assembly.
2 Ideas for Custom Railings — Site-built deck rails use unconventional materials to preserve the view.
Previous:
Make a Simple Template to Install Deck-Rail Cables
Next:
Installing an Aluminum Railing