Design
Kitchen Design: In the Zone
Create three distinct work areas with refined details to bring flexibility, flow, and function to your kitchen's layout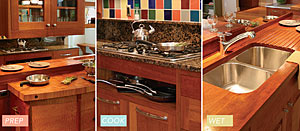 When designing a kitchen, many people rely on the concept of a "work triangle" that orients task-specific areas so that the cook moves through the motions of food prep, cooking, and cleanup in a triangular pattern. The concept makes perfect sense, and certainly the result can be a kitchen that's easy and enjoyable to work in. Click here to learn more about the theory behind the triangle.
But as a kitchen designer for the past 12 years, I've never found that method suitable for my designs. In my experience, site constraints and client preferences usually nullify any preconceived notions of how a kitchen should be laid out. Instead, I create prep, cook, and wet "zones" that can be integrated into any kitchen design regardless of the existing site challenges or the clients' style guidelines. Each zone has its own functional design attributes, including cabinetry that satisfies homeowners' utilitarian needs as well as their style preferences.
Break out of the triangle
Instead of designing with a triangle in mind, I consider prep, cook, and wet "zones" that can be integrated into any kitchen design.
The approach I suggest is to think of the functional spaces in your kitchen as three zones – the prep zone, where cutting, chopping, and kneading occur; the cook zone, which is centered on the cooktop or range; and the wet zone, where the main sink is located. Each should be 4 ft. to 8 ft. in length and about 26 in. deep.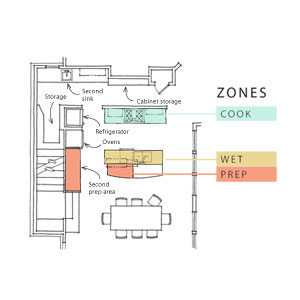 A sketch determines how zones are best organized
To begin the layout process, outline the zones on a floor plan, irrespective of any site constraints and at any angle relative to one another and to the room. Be sure to leave traffic lanes that are at least 3-1/2 ft. wide. With this exercise, you'll know pretty quickly what variety of kitchen your space can accommodate, whether it's L-shaped, galley style, or home to an island.
Once you have a layout that you like, determine which site constraints you just cannot live with and can afford to alter. For example, you might decide to change existing drain and wall locations or duct routes. For constraints you cannot afford to eliminate, simply work around them by reconfiguring the shape, positioning, and size of each zone.
The Prep Zone
The prep zone need not be central in the kitchen, and it's often nice to place it at the periphery of the floor plan, out of the main traffic flow.
Integrate secondary spaces wisely
With the three principal zones laid out, add space for a refrigerator and a pantry if you can. I have written previously about ways to shoehorn refrigerators into kitchen spaces; see How to Hide Your Refrigerator. Although it might not be suitable in all kitchens, a pantry provides lots of storage space, which can reduce the size or number of cabinets you need to buy.
You'll have other requirements for your dream kitchen as well, such as a bar, a desk, additional prep space, and a high counter for casual meals or snacks. Personally, I don't think it's sensible to let these elements drive the overall design. In many of my projects, such elements were jettisoned when it became clear that the three principal zones demanded the entire space.
In larger kitchens where there's room to include these extras, be sure to design them specifically for your needs rather than arbitrarily blanking out a large space for them. Then do an imaginary walk-through to site each element correctly.
For example, a desk in a deep, dark back corner of the kitchen will probably end up as storage, not as a place for kids to do homework. Desks placed at an entry point are obstructive. The successful kitchen desk serves as command central and is placed in the center of the room, typically at an island. Certain secondary spaces work best when they are somewhat central and in the thick of things. When placed in the middle of the floor plan, a high counter for fruit and snack bowls is the go-to place for those coming through the kitchen and fosters social interaction.
The Cook Zone
The placement of the cook zone is perhaps the most critical. Ideally, it should be placed against a wall, not within an island, to allow for better heat and grease control. For convenience, the cook zone should be positioned no more than two steps away from the wet zone.
Create a functional kitchen with useful cabinets
Once you've settled on your new kitchen's layout, it's time to select the cabinetry. Whether you choose custom cabinets from a local shop, semicustom from a large cabinetmaker, or stock from a catalog, it's important to elicit as much functionality as possible from every inch. Choose whatever look you want – style is subjective, after all – but be careful not to let aesthetics trump function. Some decorative elements can really boost the price of cabinets.
When selecting cabinets and their orientation within the layout, keep a couple of things in mind. First, think hard about door swings and drawer clearances in the corners of the kitchen. Second, don't forget that knobs and pulls also need appropriate clearances.
Take a closer look at these must-have kitchen accessories.
The Wet Zone
The wet zone is where the main sink is located. This is the social center of most kitchens, and even when it's not, it's the most heavily used space. As a general rule, the wet zone needs either a window view or a view of the living area and should have a counter height of 37 in. to 39 in., the tallest of the three primary zones.
Photos: Brian Pontolilo except where noted; Drawings: Martha Garstang Hill
The pre zone. This is most useful when its counter is 34 in. to 35 in. high, providing leverage for cutting veggies or kneading dough. This area demands little space, roughly 12 to 15 sq. ft., so it might be feasible to create an additional prep zone, as I've done in my kitchen. One prep zone is used for general preparation, while the other is used primarily for chopping.
The highlighted areas in this floor plan identifies the prep zone.
Recycling center. The bins tucked discreetly into this drawer, located in the prep area by the stairs, are much wider than a trash bin, as they need to accommodate milk jugs, cans, bottles, and cereal boxes. Drawers designed for recycling duty should be no less than 18 in. wide.
Storage. A deep upper cabinet, which holds only glasses and cups, shares its storage with the wet zone, while a mixture of deep and shallow drawers below stow cooking ingredients and utensils.
Countertop. End-grain butcher block is the best material for a cutting station and adds visual interest, especially when placed atop quilted-cherry cabinets.
Power. A well-placed outlet provides power to the island for blenders, mixers, and other gadgets.
Quick cleanup. A 10-in.-wide trash drawer set conveniently at the end of the prep zone makes disposing of chopped scraps easy.
The cook zone. I favor generously sized cook zones that are at least 8 ft. long and that provide ample space for laying out pans, dishes, and ingredients. A comfortable zone, including a 3 1/2-ft. traffic lane, takes up at least 45 sq. ft. The height of the cook zone is the toughest to determine because ranges usually accommodate a 36-in. counter height, which is a bit too high for seeing into deep pots. I usually try to specify separate cooktops and ovens so that the cooktop can be lowered and the oven can be installed in a tall cabinet close by. Brian Pontolilo
The highlighted area indicates the cook zone in this kitchen plan. Martha Garstang Hill
Storage. A rack keeps commonly used utensils within easy reach of the cook. Two upper cabinets of varying depths hold additional spices and cookware without impinging on the space. Brian Pontolilo
Countertop. Heat-resistant materials that are easy to clean, such as stone, make the best cook-zone countertops. Brian Pontolilo
Quick cleanup. A wipe-down wall surface is easy to clean and helps to ensure a hygienic kitchen. Brian Pontolilo
Cook's cabinet. An open shelf directly below the cooktop is a useful, cost-effective way of storing regularly used pans. Drawers hold kitchen gadgets, large pots, lids, oven mitts, Tupperware, and a host of other cooking-specific items. Brian Pontolilo
The wet zone. A proper wet zone should occupy a minimum of about 28 sq. ft. on the floor plan, which assumes a 5-ft. counter length and a 3 1/2-ft. traffic lane in front of the counter. A more comfortable wet zone has a double-bowl sink and at least an 8-ft. counter, occupying about 35 sq. ft. Brian Pontolilo
The highlighted section indicates the wet zone in this kitchen layout. Martha Garstang Hill
Countertop. A teak countertop brings warmth to the kitchen and holds up well in the wet zone when protected by a cured tung-oil finish or a monthly treatment of mineral oil, both of which are considered food-safe. Brian Pontolilo
Storage. Sink bases are big, but they don't store much. To boost storage, specify cabinets with lots of drawers that aren't separated by face-frame rails. Brian Pontolilo
Accessible storage. Plates, bowls, and flatware sit in drawers with retrofitted organizing systems at arm's length from the dishwasher. Brian Pontolilo
Headroom. Place upper cabinets to the left or right of the sink where they're out of the way, and add perforated shelving over the sink when possible so that wet dishes, cups, and bowls can dry without creating a mess. Brian Pontolilo
Quick cleanup. Dishwashers should be placed immediately to the left or right of the sink for convenient loading. Brian Pontolilo