Energy-Efficient Battery-Charging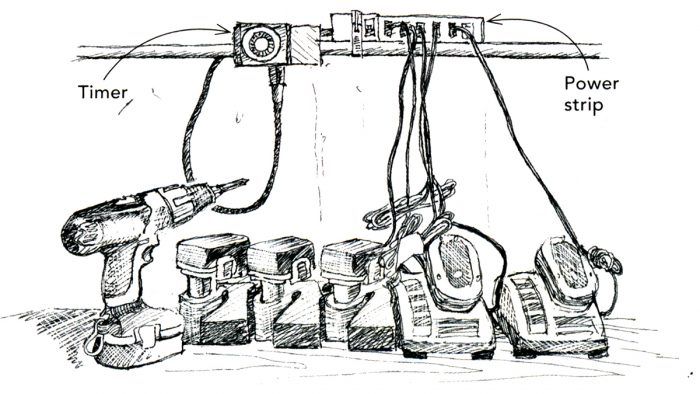 I've got a ton of battery tools. Many sit around for weeks or months before they're needed on a job site. The last thing I want when I need a tool is a dead or weak battery. The second-to-last thing I want is to have 10 chargers drawing current all day and all night. The smart thing would be to plug in my bank of chargers the night before I need them, but remembering to do things is not one of my strong points.
Now I automate my recharging tasks to keep batteries topped off and ready for service using a seven-day programmable timer. I set it to operate for a 30-minute period once a week when I'm not burning through batteries on a daily basis. The timer uses about 0.05 kwh per week, which is way better than the 0.5 kwh per week consumed by the 24-hour timer I used in my first version of this charging station.
As shown in the drawing above, I plug a series of chargers into a power strip that plugs into the timer. Just make sure to get a grounded version that can handle the total amp draw of the chargers you intend to connect to it.
Mike Guertin, East Greenwich, RI
Edited and Illustrated by Charles Miller
From Fine Homebuilding #208