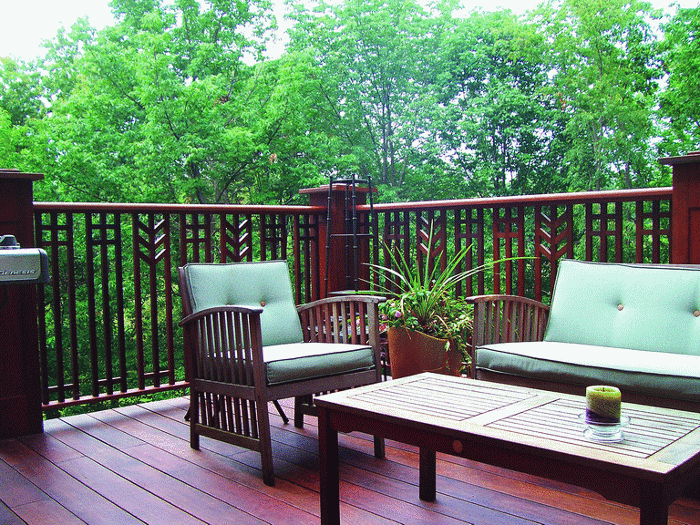 Back in August, Rob apparently struck a nerve — that is to say he hit the nail on the head  — with his post on what's wrong with synthetic decking. Opinions came flying back on both sides of the argument, and I know I came away convinced that one thing we had to do is take a fresh look at these materials in our upcoming special issue, Decks & Outdoor Projects Vol. 3.
So consider that article assigned. And feel free to weigh in, BTW, with any additional  thoughts/opinions on the competing qualities of wood vs. composite vs. plastic.
But here's what gets me about decks,and it's a thought that I suspect creeps into the consciousness of those who spend a lot of their time and make a lot of their money constructing them. Decks are one of those features every homeowner seems to want–but do they ever ask themselves why? Or have decks  become like whirlpool tubs and granite countertops and two-story foyers–a part of the suburban package we've come to expect regardless of whether it fits the design of the house or the lifestyle of the homeowners? We've all seen homes where decks have been tacked on as teetering appendages, miles above grade, dead-ending, a barrier rather than a bridge to the outdoors.
Are these problems in the nature of decks, or in their design? Is it a failure on the part of homeowners to understand the potential inherent in these rooms without walls (and demand their contractors deliver on that potential) or are too many builders lacking in imagination? Certainly there are standouts in the deck-design world–like the one pictured above, and some others here in our gallery: amazing outdoor spaces crafted with care and ingenuity. If you know of more, please share them. Because we don't see them often enough.