Design
A Closer Look: Zero-Energy Homes
With a balance of conservation and renewable production, these houses make as much energy as they use.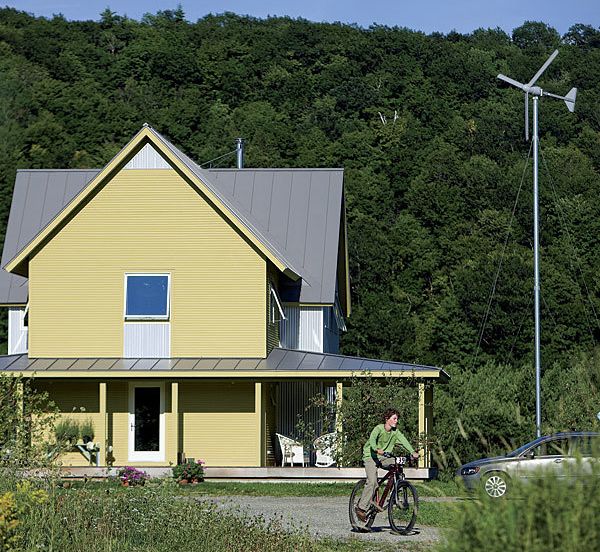 Synopsis: The unpredictability of energy prices and the threat of climate change have led to a boom in green building and a growing desire on the part of home buyers for energy-efficient homes. But some builders are taking energy efficiency all the way back to zero: Net-zero homes produce as much energy as they consume in the course of a year. Contributing writer Scott Gibson describes the two steps to designing such a home: first, reducing the heating, cooling, and electrical loads; second, producing on site and with renewable resources all the energy the home needs. He explores the question of how much to spend on each step, an answer that will vary from house to house but that can be ascertained with the help of computer modeling software. He profiles three net-zero homes: a wind-powered house in Vermont, a Habitat for Humanity house in Colorado powered by a modest photovoltaic array, and a remodeled ranch house in New Hampshire, powered by a larger photovoltaic array.
Energy bills for some homeowners can be as much of a burden as a mortgage, only a lot less predictable. If you heat with oil, you already know this. In August 2008, filling the two oil tanks in my basement cost $2800. By the following spring, it was $970. Unsettling ups and downs in energy prices aren't the worst of it. Housing accounts for more than one-fifth of all the energy used in the United States. Burning fossil fuels to heat houses and to generate electricity is driving up levels of atmospheric carbon dioxide and transforming the planet's climate to the point of no return.
Green building attempts to address both of those problems by promoting energy conservation. But energy efficiency is only one of several goals in most green-building programs, which are equally concerned with sustainable materials and indoor-air quality, among other things. Even the most rigorous green-rating system, LEED for Homes, requires that homes meet the Energy Star standard, which isn't enough to get a home to net-zero energy use. Net-zero houses focus on energy, and energy alone, which some experts argue is the greenest thing you can do. These houses are designed to produce as much power as they use during one year.
There are several ways of defining just what net zero means: measured on-site, by source energy, and by total carbon emissions. Semantics aside, though, a variety of experts have found ways to reduce net-energy consumption to next to nothing. In the most basic explanation, there are two steps to designing a zero-energy home. First, reduce the heating, cooling, and electrical loads. Then produce the energy that you need on-site with renewable sources. The trick is to strike a balance that achieves these two goals affordably. Here, I'll look at the way these principles have been successfully applied to three designs: a wind-powered house in Charlotte, Vt.; a house in Wheat Ridge, Colo., built by Habitat for Humanity; and a remodeled ranch house in Squam Lake, N.H.
The balance between energy demand and production
Efficient construction and renewable energy are the yin and yang of net-zero design. Paul Norton, a senior engineer at the National Renewable Energy Laboratory (www.nrel.gov) in Colorado, says that "the critical question" in a zero-energy building is how much money should be invested on each side of the equation.
Making a building modestly more efficient doesn't cost much. But the cost of saving energy with building improvements, such as more insulation or better-quality windows, gets progressively more expensive as the energy gains become progressively smaller. Eventually, the cost of additional building improvements outweighs the cost of adding more renewable energy.
Norton says that 50% to 60% of the total energy savings in a net-zero building typically comes on the building-efficiency side before adding renewable energy starts to pay bigger dividends. But when, exactly, does a builder know when to stop adding more insulation? When does it make more sense to add photovoltaic capacity instead of upgrading from double-pane to triple-pane windows?
For more photos and details, click the View PDF button below:
View PDF