Where do you build cabinets?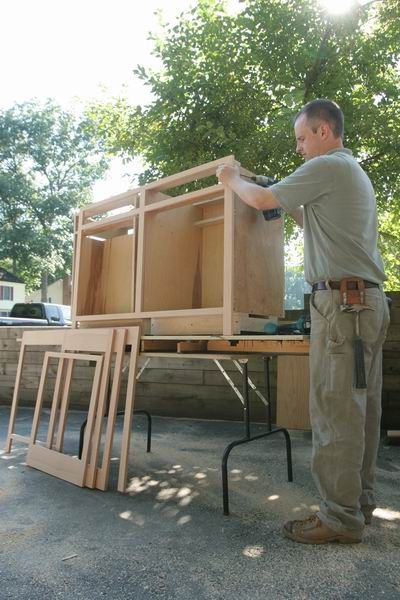 You may already have read about the Built-in Build Off. This week we had a home builder, Gary Streigler, and a wood worker, Tony O'Mally in our shop. We asked them each to outfit a mock mud-room with built-ins of their own design and using the respective tools of their trades. We shot photos for articles in both Fine Homebuilding and Fine Woodworking and we shot video for both websites. Over lunch on Wednesday we asked Gary, Tony and some of the editors and web producers from both magazines to discuss the difference between a trim carpenter and a cabinetmaker. One of the obvious differences is where the two work: A home builder works on-site and a cabinetmaker in a shop. Right?
At Fine Homebuilding, we've regularly published stories on how to build cabinets including kitchens, book cases, hutches, window seats and beds. We've also held an assumption about these projects, that they needed to be built or should be able to be built on-site, with portable tools, because that is where our readers work, and those are the tools they have. Of course, when we put these parameters on a project, we limit the type of construction. Mortise and tenon joinery is much more likely to be used in a shop setting. Biscuits are likely to be found on-site. Well, this assumption has never sat well with me for a few reasons.
Are cabinetmakers any less of a "home builder" than a framer, trim carpenter, or plumber? If the kitchen is one of the most important rooms in a house, the cabinets are surely one of the most important components. Just because cabinets can be built on site, does that mean that they should be? I've seen some very nice site-built cabinets (particularly while visiting Gary), but I have a tough time believing that a biscuited frame-and-panel door will last as long as one that is built with mortises and tenons.
This blog is not meant to be an opinion on the best type of cabinet construction or to stir the pot. I'm just curious: Do you build your own cabinets? If so, to what degree? Do you build complete kitchens or just smaller built-ins? Do you build them on-site or do you have a shop? What type of joinery do you prefer and why? Finally, what would you like to see us cover in our next story about building cabinets? And would you mind if they were built in a cabinet shop instead of on a job site?