How-To
Insulating and Finishing an Old Basement Floor
Can I add rigid foam, sheathing, and floor tiles over a basement concrete slab?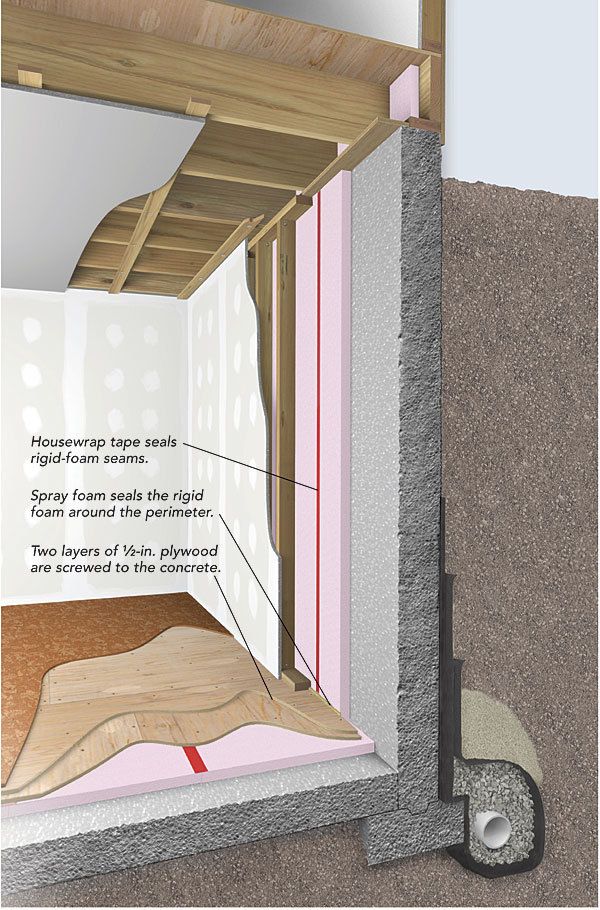 Q:
My house in Connecticut has a walkout basement. Although the slab doesn't appear to have a problem with dampness, the age of the house leads me to assume that there is no polyethylene under the slab.
I would like to insulate the slab and install glue-down cork-tile flooring. My plan is to lay down a layer of 1-in. XPS rigid foam and seal the seams with spray foam and tape, followed by two layers of 1/2-in. plywood with staggered seams. Do I need to install a polyethylene vapor retarder under the foam?
Sean Groom, Hartford, CT
A:
Martin Holladay, senior editor at GreenBuilding Advisor.com, replies: As long as your slab doesn't suffer from moisture issues, your plan will work. Andy Engel described in detail the required steps for such a job in "The Stay-Dry, No-Mold Finished Basement" (FHB #169). Be sure to secure the plywood through the foam to the concrete with concrete screws.
If built as described, your floor system will be slightly permeable to water vapor, so a damp slab will be able to dry to the interior, albeit at a slow rate. To some building scientists, including experts at the Building Science Corporation, a slightly permeable layer makes sense when finishing a below-grade concrete floor.
Other experts (including Charles Peterson, author of "A Wood Floor That Can Survive Anywhere," FHB #206) prefer to install a polyethylene vapor retarder under the foam in hopes of creating a barrier between a damp slab and the finished materials above. Either approach can work, as long as your slab doesn't suffer from serious dampness.
If you decide to install polyethylene under the foam, overlap the polyethylene seams and seal them with contractor's tape or mastic.
The weakest thermal link in a walkout basement is usually the slab edge near the door. If your slab edge is uninsulated, be sure to insulate the exterior of the slab with XPS. The insulation should extend at least 12 in. below grade and should be protected by metal flashing that is integrated with the siding above.
XPS retards vapor; it doesn't stop it Use either expanded polystyrene (EPS) or extruded polystyrene (XPS) foam to insulate a basement floor. Both are semi-permeable, which means they retard vapor diffusion but allow very slow drying. XPS is less vapor permeable than EPS, and most remodelers choose XPS for this application. Compared with EPS, XPS is more expensive, but it's denser, is more crush-resistant, is easier to work with, and has a higher R-value per inch. Major moisture problems should be dealt with prior to adding anything to the floor.