It's back to business at KBIS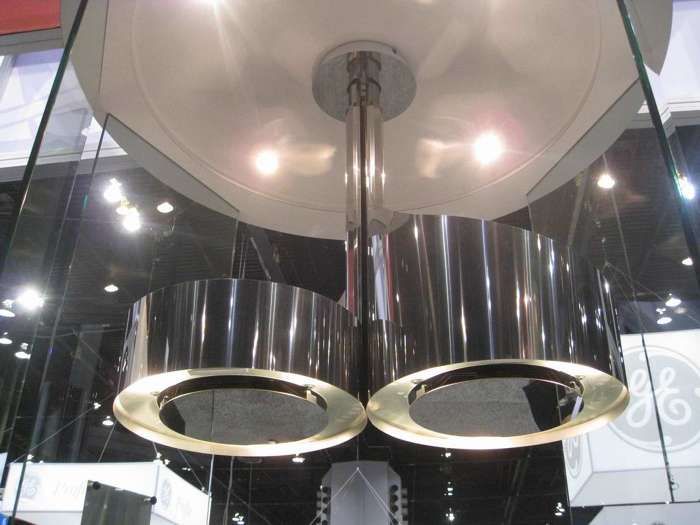 There's no denying that the Kitchen and Bath Industry Show is a leaner affair than it had once been — that said, it was pretty evident on opening day Friday that things have turned, if not around, then slightly upward, since last year in Atlanta. We're still a long way from the flash and swag of years past, and there are still gaps left by the absence of some big players (virtually all the major appliance makers, for one) but the members of this smaller club seem intent on getting on with the business of outfitting kitchens and baths with the most efficient, functional and occasionally funky products their R&D departments can think up.
Here's just a few from the floor:
Kohler's precious "Purist" line, long the darling of the bathroom, gets put to work in the kitchen, with the introduction of the Purist kitchen faucet, available with a side spray or pull-out spout. But fair is fair, so the company's Karbon articulated faucet, which debuted in the kitchen, is now available for the bath.
GE brings its Harmony washer/dryer pair more in tune with consumers with changes that include a glass lid on the top-load washer and a "My Cycle" option that allows homeowners to set up their own cycle–sort of a "favorites" tab for washing. You might remember the whole idea behind the Harmony pair was that the washer "talked" to the dryer to that the two worked together to get clothes clean and dry in the most efficient way possible. Apparently GE discovered that someone felt left out of the conversation.
At least a half-dozen designers stopped to cluck and nod over the virtues of Quick Drain USA's Pro-drain for its streamline design and ability to whisk away standing water, as well as its potential for creating accessible showers with ease. Just shows even a small piece of metal in the right place can have a lot of fans.
Speaking of fans, "Double Vertigo" is one of 7 exotic range hoods from the Best brand that Broan is considering for the American market. Others include "Chorus," which is shaped like a huge bellflower and changes color, and "Lipstick," a bright-red cylindrical facsilimile of its name. Whether the Italian styles reach our shores in the next few years will depend in part on their reception here in Chicago. By the way, there's also a "Single Vertigo" variation, which only makes you half as dizzy.
Broan's "Double Vertigo" range hood
Kohler's "Purist" pulls kitchen duty
Quick Drain USA's Proline Drain
GE "Harmony" washer controls