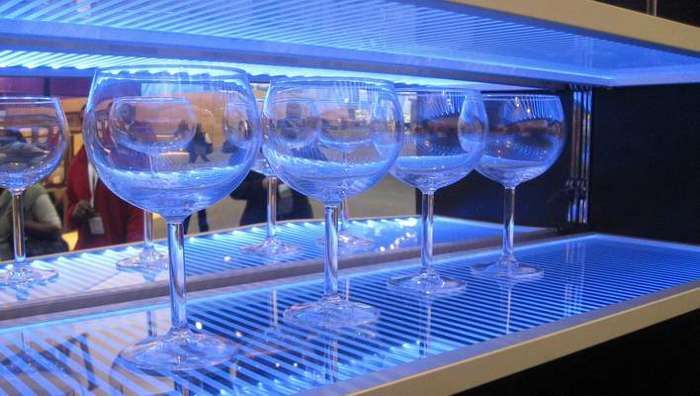 KBIS 2010 closed today, leaving behind its share of sore feet and indeligble images. That's the rub and the reward that comes from pounding the paths between the show's 563 exhibitors. Even in a show as scaled back as this one, there's more to see and report on than is possible in a few days and a few paragraphs. Yes, you can narrow your focus by honing in on what's "new," but in a year like this one, the definition of "new" is as slippery as the meaning of "recovery." Most of this year's progress, it seems, has come in small design tweaks, the expansion of existing technologies and features to more models, or in finally bringing to market a prototype waiting patiently in the wings.
Some sights to remember:
Toto's otherworldly Luminist basin, made of industrial epoxy and illuminated from below with an LED, was shown as a protoype last year but will be available for real-world kitchens in the third quarter of 2010.
Element Design's aluminum-frame, LED-lit panels lit the floor in 10 different colors. Shelves to see by. Stunning.
With rollers this size, Basco Shower Enclosures' Rolaire shower door hardware (shown here with a 3/8-in. "flash glass" door) clearly means business.
Totally Bamboo adds a unique basketweave pattern to its countertop offerings, along with a line of pre-finished, ready-to install bamboo island tops.
Oh, and while they're not much to look at, the folks at Schluter Systems are pretty confident that their Kerdi-Board panels–expected to be available in June–will usher in a whole new approach to shower constructiion. Some of the best things are better left unseen, after all.
Eluma aluminum-frame LED shelves from Element Designs
Basco's Rolaire shower door and hardware
Totally Bamboo's "Geo" pattern