How-To
A Concrete Paver Walkway
Whether for patios or walkways, base prep is what keeps pavers in place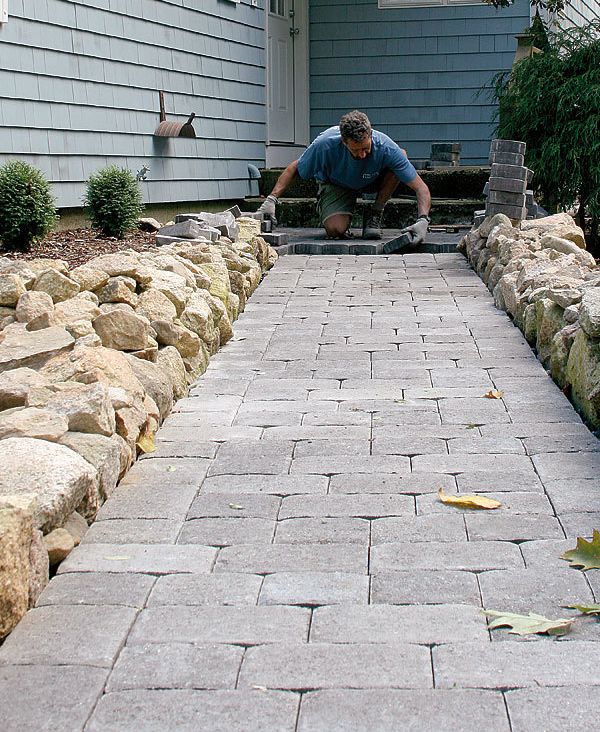 The concrete walkway to the front door was past its prime. The poorly prepared, uneven base led to extensive cracks with vertical displacement; water undermined the concrete in several spots; and the surface was pitted and spalling. Rather than replace the walkway with another of poured concrete, the homeowners and I opted to install concrete pavers. Pavers are widely available, highly durable, and most important, more visually interesting than an ordinary poured-concrete surface.
Concrete pavers are also easy to work with, but the key to a successful project is in the prep. Set on a well-prepared base, a paver walkway can easily last 50 years or more. Cut corners on the preparation, however, and a year or two later, you'll be pulling out the pavers—and your hair.
There are two base layers to prep: the subbase and the setting base. The subbase can be either existing well-drained gravel 6 in. to 12 in. deep, or processed stone or gravel brought in to replace unsuitable soil. On top of the subbase is a setting base of coarse stone dust between 1 in. and 4 in. deep. Grading, compacting, and regrading each layer in succession accounts for three-quarters of the work of building a new walkway. But the extra effort you put into this part of the project that no one ever sees gives you a stable foundation for a durable installation. It also makes the remaining 25% of the work of setting the pavers a cinch.
View PDF