Tools & Materials
Refresh Latex Paint
Cost: $23 a gallon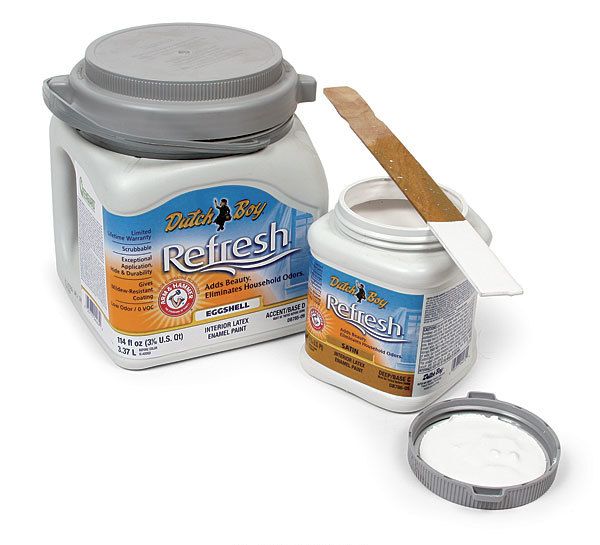 When I first heard about Dutch Boy's Refresh, an interior paint designed to eliminate household odors, my nostrils narrowed and lips curled into a "yeah, right" smirk. Then I remembered my experience working with clay plasters: that unmistakably clean, country-air scent of an earthen interior.
The freshness of unpainted plaster results from the chemistry of clay, which scrubs air molecules and releases negative ions to produce a feel-good scent. So why couldn't a paint manufacturer develop a product with odor-eating, air-scrubbing properties?
Dutch Boy says its Refresh paint is the first and only coating with Arm & Hammer odor-eliminating "technology" (baking soda, in other words). Refresh works its magic when indoor-air currents bring odor molecules in contact with painted surfaces that then "capture and lock odors within the paint film," according to Julie Brosien, a senior product manager at Dutch Boy. The company's chemists offer a more scientific explanation: Baking soda reacts with acidic odorants and neutralizes them, changing them into nonvolatile salts that no longer evaporate into the air. Brosien says this odor-neutralizing effect could be expected to last a year or more.
I decided to test the paint at home. Not that we have a smelly house, but occasionally, after a day outside, a subtle, sour scent greets me as I walk in. I wondered if Refresh would alleviate this aroma.
Dutch Boy claims this is a single-coat paint, but it took me three applications to cover an off-white wall with a deep maroon. The paint applies as easily as any midrange product, but it's not as full-bodied or as smooth as other premium paints I have tried in the same price range. Compared to other eco-paints, Refresh feels more like normal paint, without the characteristic roller drag of most zero-VOC formulations. Its slightly vinegary scent is similar, albeit faint in comparison, to standard latex. Within an hour, the paint was dry and odorless.
Refresh's odor-eliminating ability, though, has been hard to pin down. I came home the next evening to shrimp fajitas, and there was no mistaking what was for dinner. But several days later, we went hiking, and stepping back into the apartment, we detected no sour smell.
To be fair, a few days of random sniffing does not represent a scientific study. But it makes sense that paint could act as an air cleaner, and in our mouthwash- and deodorant-based society, nothing makes a better first impression than no scent at all.