Design
Rainwater Collection Lowers the Impact on a Coastal Site
Traditional architecture, new building methods, and rainwater collection combine to lessen a home's imprint on its sensitive coastal site.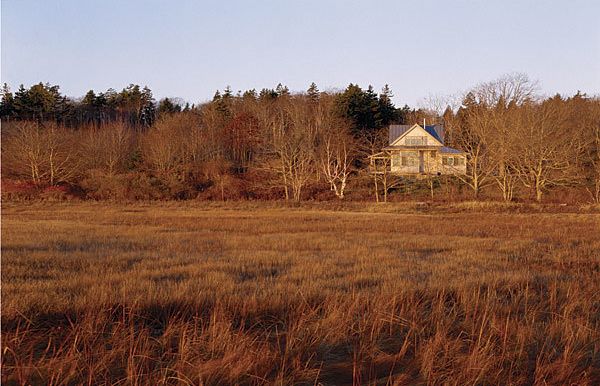 Synopsis: When Laura Sewall decided to build a house on land in Maine where generations of family members had retreated in the summer, she was guided by a desire for the house to be graceful and energy efficient, and with as little disruption to the sensitive site as possible. In this article, architect Stephen Sullivan describes the house he built for Sewall. To the casual observer, the home isn't necessarily distinguishable from many other New England homes. It's basic form is a central cube with four cross gables, each of which faces one of the cardinal directions. But a closer look reveals subtle energy-saving details. Windows are maximized to the south, yielding lots of passive solar heat, and structural insulated panels were used to construct the house, with insulated concrete forms used to build the foundation. The house also has a rainwater collection system that allows Sewall to avoid having to draw water from the local ecosystem—and that fills her basement swimming pool.
I was honored when longtime friend Laura Sewall invited me to design her house at Small Point, Maine. Set at the mouth of the Sprague River as it spills into the Atlantic, the site witnesses the daily ebb and flow of the ocean's tides in a vast estuary. Laura saw this dramatic site, the setting for generations of family summer retreats, as a precious gift from her ancestors.
During a frigid January weekend in 2004, Laura and I gathered with her builder, Christopher Hahn, at Small Point. Warmed by a small campfire, we talked about the complex feelings that often accompany an intention to build, particularly when it involves disturbing such a fragile landscape.
Christopher, an old friend of Laura's who had recently moved to Maine, brought an extensive knowledge of building technologies and high standards of craftsmanship to the project. As a team, we shared a vision of a responsible, sustainable approach to building.
Efficiency in form and materials
Maine's historic coastal architecture provided us with three centuries' worth of fine New England homes that shared common goals with our new design, a graceful form that would provide comfortable shelter against the often-harsh weather.
The home's basic form is square in plan and cubic in volume. The cubic form, in which a minimum of exterior surface is needed to contain the maximum amount of space, has strong architectural precedent in the area, undoubtedly for its thermal efficiency.
The plan is divided roughly into a nine-square pattern, with the great room and master bedroom as a larger central square. A lower shedlike roof surrounds the house on slightly more than two sides, creating a buffer to the north and west, where solar gain is negligible and weather is most harsh.
The east and south sides of this surrounding buffer, in contrast, are "carved away" to expose the central living space to light and solar energy from the south, and to allow a view of the tidal estuary to the east. We chose visually simple windows based on a golden-section proportion (1:1.618) to evoke the classical tradition of New England homes.
The central cube has four cross gables, one facing each of the cardinal directions — another allusion to local historic architecture. Windows are maximized to the south and minimized to the north, giving the north-entry elevation some of the noble austerity characteristic of early New England architecture while allowing the south elevation to express a contemporary openness.
The main floor contains a great room, an office, a small bedroom, a lavatory, and a pantry. The upper floor contains the master bedroom and bath. The basement, originally designed to hold several large tanks for rainwater collection, was expanded after the original design to include a greenhouse and an "endless" swimming pool for exercise during the cold winter months. The rainwater-collection system was a response to the fact that Small Point's water system is shut down in winter, as well as Laura's hesitancy to draw water from the local ecosystem. Although designed as a traditional stick-built home, Laura and Christopher chose to construct the house using SIPs (structural insulated panels) and its foundation with ICFs (insulated concrete forms) to maximize its thermal efficiency. The heating is a propane-fired radiant-floor system, backed up with a Jøtel woodstove.
For more photos, drawings, and details, click the View PDF button below:
View PDF