Design
Timber-Framing the Views
Outdoor places over indoor living spaces are just one way this house makes the most of its spectacular site.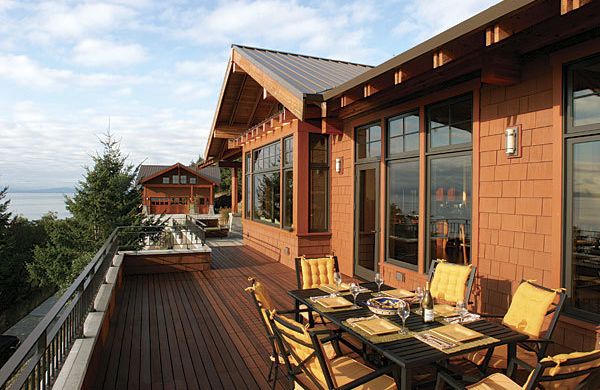 Synopsis: After 16 years of building for other people, author Steve Mittendorf was thrilled when he got the chance to build his own home on a steep hill on San Juan Island overlooking Puget Sound in the south and Vancouver Island in the north. He and his wife decided on a timber-frame house, a natural for lofty ceilings, long views, and big openings for windows. They gave their timber frame an updated twist by using glulam beams laminated from kiln-dried finger-jointed 2x Douglas fir. To take advantage of the spectacular view to the west, Mittendorf decided to build a deck over the lower living space, which required the careful selection and installation of a membrane. The long, thin house has bump-outs for additional kitchen space and for a window seat overlooking the deck and the water beyond.
This project was my dream and had been incubating quietly for most of my career. After 16 years of building fine homes for others, i finally had the chance to build my own.
My wife, Lynn, and I had spent several years searching for property on San Juan Island in northwest Washington State. Our ideal piece of property would have a great view, which in the islands is typically interpreted to mean waterfront. At the end of a long day looking at mostly mediocre waterfront houses, we had one last stop. The gravel driveway wound up through a mature fir and madrone forest; then, with a final switchback, it got really steep. When we finally leveled off on a gravel bench at the top and I relaxed the death grip on the steering wheel, we took in a spectacular 180° view. It stretched from Puget Sound in the south to Vancouver Island in the north. With its seasonal community of orca whales, Haro Strait was just beyond the forest canopy at the bottom of the hill. We were smitten, until we saw the price tag.
It took us a couple of months and a lot of deep breathing finally to pull the trigger. The property had been developed, with water, power, phone, and a septic system already installed. The driveway alone — and this is speculation on my part — had to have cost $50,000 in 2001 money, because it was largely hammered into the solid rock of the bluff. In short, the lot, although loaded with a whole set of its own challenges, was ready to build, and the higher price tag reflected substantial savings on developmental costs.
Skinny house sits on two benches
At first look, the only place to put a house was on the parking bench at the top of the driveway. I've always thought it awkward, however, to feature garage doors in a house's entrance facade. Exploring other options, we discovered what appeared to be pair of parallel rock benches under an 8-ft.-tall blackberry thicket. I spent a brutal day reducing the thicket to a debris pile, and it paid off. The benches looked promising.
Next, we brought in architect Peter Stoner to give shape to our dreams. His first pass at a concept sketch nailed the dream to the drawing board, and we were off and running. The parallel benches dictated a long, skinny two-level house. The beauty of this approach is that it extends the upstairs living space with an outdoor room atop the lower level.
Updating the timber frame
Wanting the house to take advantage of the huge views led us to build a timber-frame structure, which is a natural for lofty ceilings, long views, and big openings for windows. Timber frames are not without their own set of problems, though. It can be hard to find stable timbers that won't twist and check. Also, modern seismic codes call for lots of steel plates and bolted connections, which can look out of place in a traditional timber frame. That's OK with me, though. I wanted a more contemporary look than that of a timber frame with angled braces.
For more photos, drawings, and details, click the View PDF button below:
View PDF