Design
The Rotproof Porch
Water management is the key to keeping a porch standing for decades.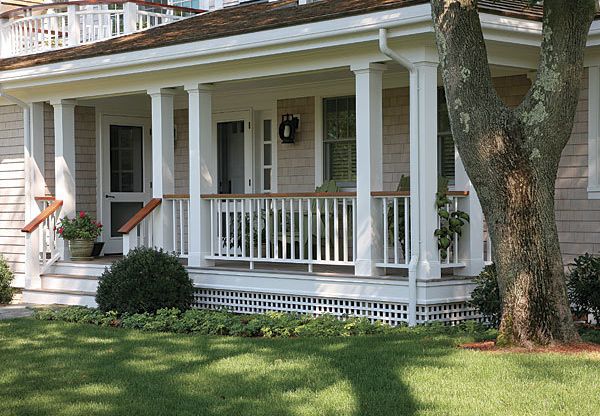 Synopsis: Like a deck, a front porch is a social space that enhances a house by providing an outdoor living area. Also like a deck, a front porch requires fastidious detailing to prevent decay that can be brought on by poor water drainage. FHB associate editor Chris Ermides takes a look at the details that the best builders use to make sure that front porches last for a long time. He addresses nine important things when building a front porch: slope the stairs, isolate the framing, pitch the floor, protect the posts, cover the soil, flash the ledger, bevel the railings, vent the trim, and cap the newel. This article also includes information on the best ways to detail piers, flash the porch, lay the porch floor, and direct water movement.
Covered front porches aren't like decks. They're both good places to enjoy the outdoors, but they don't serve the same functions. Grills and dining tables don't typically find themselves on front porches. Swings and rockers do, though. On the front of the house, a well-designed porch can set a welcoming tone; the porch's purpose is as much architectural as practical.
Porches don't take the same kind of beating that decks do, either, but they do take a significant amount of abuse from the elements. Rain, snow, and humid air can wreak havoc. No matter what part of the country, moisture is a porch's worst enemy.
To learn the best building practices for porches and to discover where the most troublesome details lie, I spoke with builders in Rhode Island, Louisiana, Arkansas, and North Carolina. What follows is a compilation of the most meticulous details I could find. One builder, Mike Davis in New Orleans, takes a particularly aggressive approach to creating a rotproof porch and has devised a way of connecting a railing to a column that is as practical as it is strong. Much depends on the design of the porch, but the principles are the same. As Davis likes to say, "Think marine—and I mean boats, not military."
Two ways to detail piers
Like piers for decks, porch piers support loads from floor framing. Unlike most deck piers, however, they also have to support the roof. Brick piers were common in old homes, but they aren't ideal. Both brick and mortar absorb water, so they're prone to deterioration from ground moisture.
While concrete-filled builders' tubes are the obvious choice for decks, they're not necessarily the first choice for porches. Many builders use concrete blocks and chimney blocks for porch piers because they're often part of the porch's design. Set on a concrete footing below the frost line, concrete-filled block provides a substantial foundation — visually and practically — on which floor framing can be built. Wrapping the block with stone or brick dresses it up. A pitched cap should be used if the veneered stone or brick sits proud of the porch's fascia.
Forming a capillary break between the concrete and the framing material is the key to avoiding moisture damage. Use metal anchors to connect piers and framing lumber.
Areas where wind uplift is a concern often require posts to run continuously from pier to roof and are fastened with hurricane-rated metal connectors. Piers should be isolated from freeze-thaw cycles, which can cause frost heave.
RELATED STORIES
For more photos, illustrations, and details, click the View PDF button below:
View PDF