Bosch redefines sliding miter saw category with new "glider" system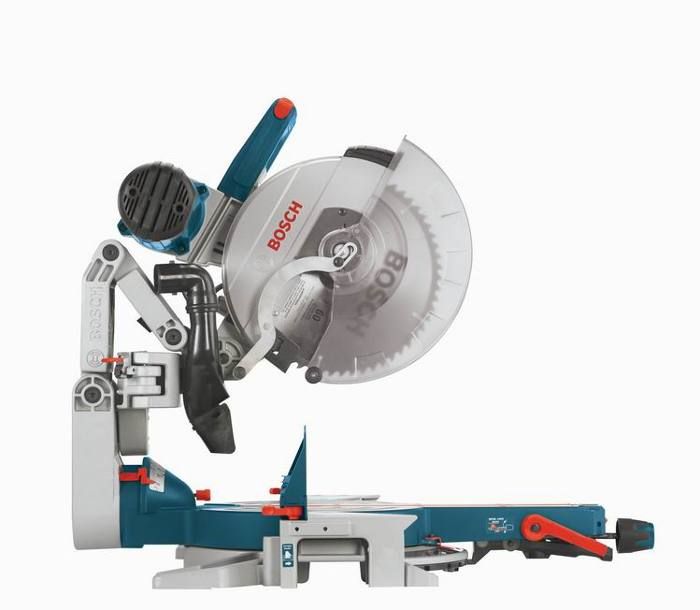 I give 'em credit. Bosch had what was arguably the best sliding compound miter saw in the industry. They came out in the top spot in many head-to-head reviews, and were responsible for innovations such as moving the bevel controls to the front of the tool where they are far more accessible. I give 'em credit because being a leader in the miter saw category and still deciding to try to improve is gutsy…especially when you challenge the very foundation of what makes a sliding miter saw so identifiable — the sliding rails!
The new GCM12SD 12-in. dual-bevel GLIDE miter saw replaces the common pair of tubular rails with what Bosch is calling an Axial-Glide system. Similar to the linkage used in a four-bar suspension setup, the Axial-Glide system is sort of like a pair of hinges that allow the tool to glide forward to make deep cuts without sacrificing space at the back of the saw when retracted.
The saw has lots of great features to talk about, but there are only three that I think you need to know about right now:
Saves Space – The saw has no rails protruding from the back of the saw. This means it can be pushed up right to the wall – more room on the workbench. Less chance of damage to walls on a jobsite. More working space for everybody. Oh, did I mention it also does this while offering a 14-in. horizontal cutting capacity?
Stays True – One nice thing about aluminum arms instead of steel rails is that the slide…excuse me, "glide" mechanism…stays calibrated. Even on a fully extended bevel cut I saw VERY little deflection in the cutting motion.
Looks Cool – We can all pretend that the "cool factor" of a tool doesn't matter, but we all know it does. I bet if I took your favorite reciprocating saw and painted it bright pink you'd be a little less proud to pull it out of the case on the jobsite. A gliding miter saw looks sweet, nuff said.
For those of you wondering, Bosch tells me that the selling price will be about $700.