Bosch's New Finger-Saving Portable Saw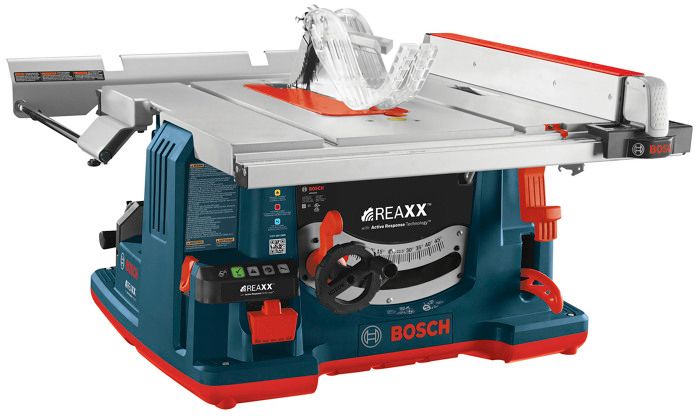 It's been an exciting time around the editorial offices as of late. Last week I got my first glimpse of the SawStop Jobsite tablesaw. A few days later, Bosch announced its new flesh-sensing job-site tablesaw. I first reported on Bosch's flesh-sensing saw in 2010 when it was revealed that Bosch was working on the saw during the proceedings of the Carlos Osorio lawsuit. Nearly five years later, Bosch officially debuted the saw at this year's JLC Live in Providence, R.I. 
How does it work?
Unlike SawStop's system, which brakes the blade by launching an aluminum block into the spinning blade, the Bosch system doesn't attempt to stop the blade to prevent injury. Instead, it rapidly forces the blade below the table while it's spinning. It uses a cartridge that the company claims is similar to the mechanism used for triggering automotive air bags.
According to Bosch, the benefit of this method is that the saw trunnion and transmission don't have to absorb all the energy associated with bringing the blade to a stop in a fraction of a second. The cartridge can be replaced and the saw returned to operating condition in a few minutes. Moreover, the blade is undamaged–unlike on the SawStop, which destroys the blade.
The new saw, dubbed REAXX, looks to be based on and to share accessories (such as the Gravity Rise Stand) with the Bosch 4100, which is Bosch's larger portable. The saw is supposed to be available in the fall with a list price of $1500. I'm heading to JLC Live tomorrow to check it out, and I'll report back on Monday with details on its operation and safety system.