A Week of Mixed Signals, with a Lift in Hiring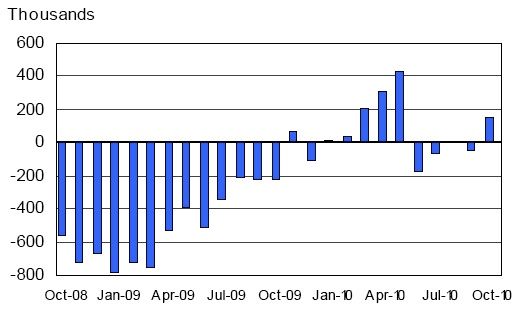 Yes, it has been a crazy week. And while the election results raise more questions than they answer about what, if any, additional economic remedies Congress might squeeze through the partisan ringer over the next 18 months, the clock continues to tick on the immediate economic realities for homebuilders.
Meritage Homes Corporation, for example, reported a $1.2 million third-quarter profit compared to a net loss of $17 million during the same period in 2009, although the Scottsdale, Arizona-based company's net home sales were 36% lower than those of the year-prior period, reflecting in part a 12% decline in sales in average active communities, from 170 in the third quarter of 2009 to 149 during third-quarter 2010.
The builder, which has had three consecutive profitable quarters, expects to break even in the fourth, when closing revenue is expected to drop, leaving the company with a profit for the year and topping analyst expectations.
Energy efficiency and expiring tax breaks
Amid a backdrop of flat third-quarter numbers for its Remodeling Market Index (RMI) – which came in at 40.8, up from 40.7 in the second quarter – the National Association of Home Builders exhorted homeowners to take advantage of federal tax credits for 30% of the cost, up to $1,500, of energy efficiency upgrades, including installation of certain types of insulation, windows, roofs, water heaters, heat pumps, air conditioners, and furnaces.
There's a tone of urgency to the NAHB message because, even though the association has been lobbying lawmakers to extend the credit (and lobbying for a return of the now-expired section 45L tax credit for construction of new, energy-efficient homes), the upgrade credit is set to expire on December 31. Homeowners who get the work done before the end of the year qualify.
The beginning of a hiring trend?
The static RMI numbers are blamed on the overall economic semi-paralysis that has been dragging down the rest of the building industry, although on Friday the Department of Labor came out with numbers on hiring – the obviously crucial recovery indicator and consumer-confidence booster – that veered toward the positive.
In October, even though the government cut 8,000 jobs and the unemployment rate remained at 9.6% for the third consecutive month, nonfarm payrolls rose by 151,000 jobs – their first gain since May – while private hiring rose by 159,000 jobs. Some observers speculate, of course, that the increase is being driven by hiring in anticipation of the holidays, although it's not yet clear that's the case, or, for that matter, that the momentum can be sustained. Still, the increases were more than double what analysts expected.
"It's still probably not enough to get the (Federal Reserve) convinced the unemployment rate is going to go down or inflation is going to go up," John Canally, an economist at LPL Financial in Boston, told Reuters news service. "But this is certainly a good kick-start."