Tools & Materials
How to Choose MDF
Medium density fiberboard comes in regular weight and lightweight; so what's the difference?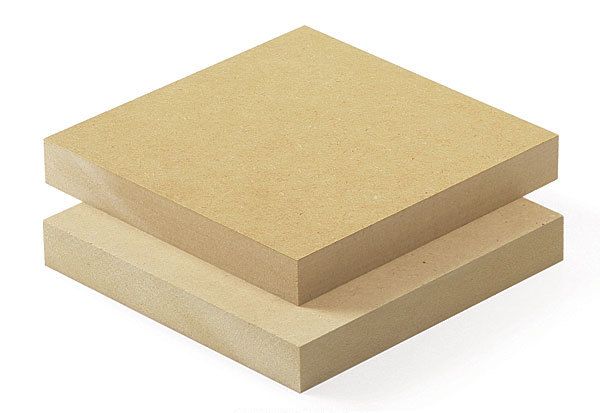 When it comes to building paint-grade cabinets, few materials are as useful as MDF. It's strong, stable, and easily tooled. It also accepts paint well, and best of all, it's dirt cheap compared to cabinet-grade plywood.
One of the major drawbacks of MDF is that it's heavy. Really heavy. Fortunately, some manufacturers produce MDF that is lighter in weight. This less burdensome product can be a great substitute for regular MDF when your project doesn't need a superstrong material.
Regular MDF: strong and affordable
The major difference between these sheet goods is the amount of raw material used to create each panel. Regular MDF has more wood fibers integrated into its construction, and less resin, which yields a denser, heavier panel. Due to this higher density, regular MDF has greater face-screw withdrawal strength and a lower modulus of elasticity, which in the real world simply means it's stiffer.
Weight: 60 lb. to 66 lb. per 4-ft. by 8-ft. by 1/2-in. sheet*
Cost: $20 to $26
Lightweight MDF: less durable
Manufacturers create lightweight MDF by reducing the amount of wood in the panel and increasing the amount of resin. While this yields a lighter, more flexible panel, it is softer. That can be a benefit because it's easier to cut, move around, and shape. However, it doesn't offer the same durability as regular MDF and inevitably shows more wear and tear when exposed to abuse.
Weight: 51 lb. to 56 lb. per 4-ft. by 8-ft. by 1/2-in. sheet*
Cost: $22 to $24
*MDF panels are usually sold with an extra inch in length and width.