Tools & Materials
Ridgid R84082 Radio
This dock not only charges an iPod, but it also lets you navigate through a playlist from the radio's control panel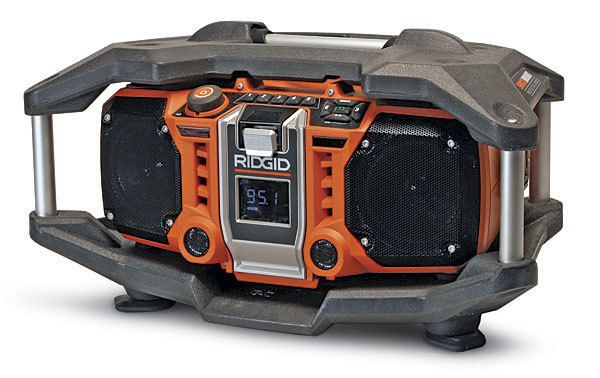 Feature
This radio has a number of features that no other model includes. Most notably, it has a 30-pin connector dock for direct connection to an iPod. This dock not only charges an iPod, but it also lets you navigate through a playlist from the radio's control panel. This reduces the chance of getting dust or moisture into the well-protected MP3-player compartment. This is also the only model in our test with a remote, which was good up to about 25 ft. from the radio with a direct line of sight. This model has a metal plate for attaching a longer jury-rigged antenna—a length of scrap electrical wire, for instance. Although the rubber-covered battery compartment did allow some water and dust to get to the battery pack, the iPod compartment stayed clean and dry through all the tests. All electronic components were fully functional after the drop test was complete.
Flaw
The biggest downside of this radio is its inability to charge battery packs. For the most part, it is easy to operate, though the latch on the front is fussy and the remote is difficult to slide into its holding slot on the side of the radio. The roll cage, which surrounds the radio and holds it in position with compressed rubber grommets, took a beating in our drop tests. The good news is that the roll cage was designed to sacrifice itself to protect the electronics and can be put back together again after a nasty fall. The bad news is that this reassembly takes some patience.
Bottom line 
The quality of this radio is undeniable. It is the only model that includes a remote and allows for external control of an iPod. The iPod compartment also stayed clean and dry, and it never opened once in our drop tests. The only real weak points are the rubber-covered battery compartment and this model's inability to charge batteries.