Home-Building Outlooks Inch Upward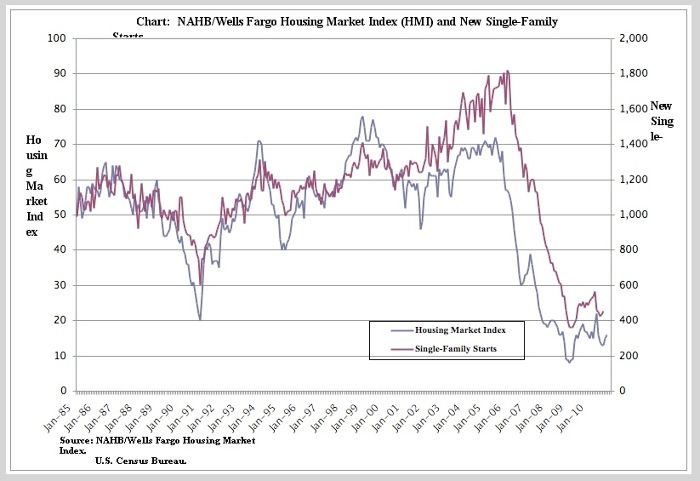 In the spirit of acknowledging whatever positives emerge in the housing market, a couple glass-half-full indicators brightened the mood a bit this week.
One was the National Association of Home Builders/Wells Fargo Housing Market Index for November, which nosed up to 16 points from October's downwardly revised 15 points. As the association's chairman, Bob Jones, noted in a statement issued on Tuesday, this was the second consecutive month builder confidence has improved. NAHB's chief economist, David Crowe, also pointed out that the sales expectations component of the index (looking ahead to the next six months), which rose two points, to 25, was the most encouraging aspect of the readings for November, particularly since the increase was on top of a five-point gain in the expectations component for October, and the highest expectations reading since the homebuyer tax credit lifted sales in the spring.
"Many builders are reporting that while the quantity of buyer traffic through their model homes has not improved dramatically, the quality of that traffic seems to be getting better – meaning that more people appear to be serious about buying in the near future," Jones said, adding that, even though inventories are thinning, access to financing still remains inordinately difficult.
While the HMI indexes gauging sales expectations and prospective-buyer traffic showed gains in November (up two points, to 25, and one point, to 12, respectively), the third, which gauges current sales conditions, remained unchanged at 16. By region, the Northeast showed an overall three-point drop to 13, the South stayed even at 18, while the Midwest and West posted gains of five and three points, to 18 and 15, respectively.
Rolling forward in first gear
Another set of predictions, in McGraw-Hill Construction's recently released 2011 Construction Outlook (which went on sale late last month), presents sector-by-sector analysis against an expected 8% increase in overall construction starts, to $445.5 billion – a notable shift from the 2% decline that had been predicted for 2010.
In the residential realm, the Outlook's basic take is that single-family housing will increase 27% in dollars, which indicates a 25% increase in the number of units built to 565,000. Multifamily housing, meanwhile, is expected to climb rise 24% in dollars and 23% in units, another incremental but positive shift.
"The U.S. economy is in the second year of economic expansion," said Kathleen Camilli, president of Camilli Economics and one of the analysts cited in the Construction Outlook. "While the growth rate is currently modest, momentum is likely to grow as the economy responds to ongoing monetary and fiscal stimulus in the pipeline. Notwithstanding the financial crisis' impact on residential and nonresidential construction, growth in this sector of the economy will continue to be driven by innovation in building technologies."