GE Aims to Bolster Alliance Between Smart Grid and Appliances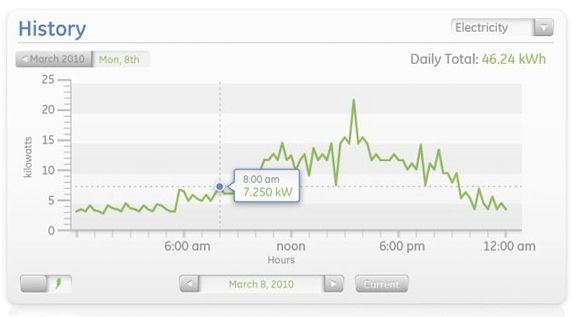 General Electric has been maneuvering for quite a while now to enhance its role not only as a maker of home appliances but as the source of products designed to help homeowners use those appliances in cost-effective, energy efficient ways.
This week, the company announced the launch of a business unit called Home Energy Management, whose mission is to develop monitoring systems that track energy use in real time and, of course, to acquaint homeowners with the advantages of these energy-use "dashboards." One component of the HEM suite is the smart meter – the "smart grid" device that increasingly has been replacing older domestic electric meters and can be read remotely by the local utility. Smart meters can help utilities develop pricing programs that accurately reflect power usage during various times of day.
GE is trying to help homeowners benefit from the data available via the smart grid by "bridging the utility-consumer gap" with tech hardware (programmable thermostats and energy displays), special monitoring software, and an array of appliances that feed data to the software program and enable detailed, real-time tracking. The company calls it the Nucleus energy manager, which is serviced by a software program called Brillion. Brillion-enabled appliances will include Energy Star-qualified refrigerators, dishwashers, clothes washers, dryers, ranges, microwaves, and GE's GeoSpring hybrid water heater. The system is being designed so the home's power usage can be controlled directly by adjusting system-compatible thermostats or remotely via computer or smart phone.
Follow-through on an existing strategy
This is not exactly new turf for GE. The company has been on the energy efficiency trail for a while now. One of its initiatives in the energy-management area, announced in July 2009, involved the development of a portfolio of renewable-energy products (such as residential solar power and wind-turbine systems), energy efficient appliances, and energy monitoring products that would enable homes to more easily achieve net-zero-energy performance.
Home Energy Management, meanwhile, is tightly focused on keeping homeowners informed, in up-to-the-minute fashion, about energy consumption in their homes. Research has shown that when occupants are able to track their energy use in detail, changes in their behavior alone accounts for energy savings of 5% to 15%. It'll be interesting to follow HEM's adoption rate as the components of the Nucleus energy manager are rolled out.
GE's Nucleus energy manager allows consumers to view their estimated energy use and cost trends by day, month, and year. The system stores historical data going back as far as three years.
GE is developing a smart-phone application designed to communicate with Nucleus energy manager. The app will allow the user to view domestic usage data and to change thermostat temperature settings.
GE's GeoSpring hybrid water heater, which features a compressor and evaporator integrated into the electric water heater unit. The evaporator draws in ambient heat from surrounding air using two variable-speed fans. Condenser coils wrap the tank all the way to the bottom to transfer the heat into the tank and heat the water. This system is designed to create the same amount of hot water as a traditional electric water heater while also reducing water-heating expenses by as much as 62%.