NAHB Analysis: It's (Still) a Small-Builder World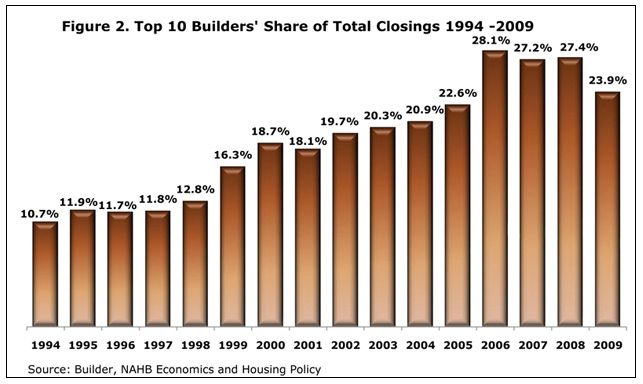 Small builders continue to be the main engine of single-family-home construction, and their market share has grown as the nation's top-10 largest homebuilders have stopped or drastically scaled back production in foreclosure-riddled areas that were once their prime markets, a National Association of Home Builders Housing Economics analysis shows.
While the economic pressures of the downturn have obviously pummeled production overall and caused many builders to exit the industry, the small and medium-size builders who forge on fit perfectly the "small business" label that gets batted around freely in political discussions and cited in industry-association complaints about the difficulty of obtaining credit. These are – as shown by data compiled by the U.S. Census Bureau's Economic Census – homebuilders whose annual receipts in 2007 totaled less than $1 million for 65% of the establishments in the group and between $1 million in $10 million for 31% in the group.
Titled "Structure of the Home Building Industry," the study, written by NAHB's director of economic services, Steve Melman, also culls information compiled by media group Hanley Wood, Business Information Tracking Services, the Survey of Business Owners, and NAHB. The Hanley Wood data, for example, show that the top 10 big builders grew mainly through consolidation over the past 16 years, taking only a 10.7% share of single-family closings in 1994, peaking in market share at 28.1% in 2006, and then dropping to 23.9% by the end of 2009.
Melman also takes care to note, however, that the big builders haven't exactly been idle as the recession drags on: "Large builders continue to reposition themselves by acquiring quality building lots, but until the excess supply of housing recedes, large builders will approach new construction with caution," he writes, adding:
"Large national builders have a comparative advantage in funding operations through their own balance sheets rather than borrowing from banks."