Rube Goldberg's Return: Creative Accessories for Accessory Dwelling Units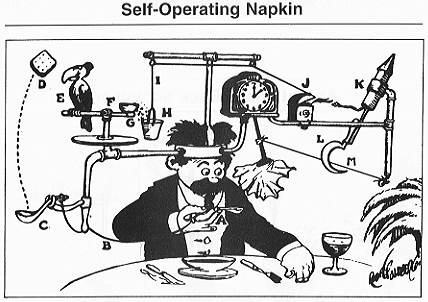 The end of the year is a time of lists. The New Yorker's tony holiday shopping list has come and gone and New Year's Resolutions yawn ahead. So we'd like to squeeze in a modest list that features multi-use and shape-shifting furniture, creative reuse and oddball outlets that may get the wheels turning for those who design, build or live in in-law units.
Beds Eat Space
Of all space-gobblers, beds are the biggest. For the low-down on fold-up beds, please see my earlier blog, "The Bed that Devoured Hollywood," which offers sources for folding beds and specialty hardware with which to build your own. And one additional entry to the morphing furniture scene offers pricey but clever items: Resource Furniture. Its video is particularly entertaining.
Industrial Strength 
Two designers in Oakland, California, raised a newborn in a 400 sq.ft. outbuilding while they renovated the main house. As the downstairs of their building doubled-tripled-as a living room/kitchen/work studio, they needed a table that could survive any of those uses. They chose the industrial-grade, stainless steel restaurant work table shown in Photo # 2 above. A quick Google search turns up suppliers such as Restaurant Services and Gala Source. But given the cost of shipping, you'll do better by checking local craigslist listings, restaurant liquidators, auctions and the like.
Salvaged Treasures
Since salvage became chic it's no longer cheap, but anyone with a sharp eye can still find bargains at local salvage yards. Items prized by small-space dwellers include folding chairs and tables, room screens (fashioned from old shutters?), and mirrors used to increase reflected light and a sense of spaciousness. To get your creative juices flowing, check out the vintage collection at http://modern50.com The site's owners have great taste and, because the site respects visitors' intelligence, you can roam its virtual warehouse and experience the thrill of discovery.
Organizing Spaces within Spaces
Some designers assert that you can get by with a third less storage space if kitchen shelves and drawers are accessible and well organized. Hafele offers quality kitchen cabinet hardware that slides, glides and swings. Knape and Vogt features glides strong enough to support drawers full of cast-iron cookware. Rev-a-Shelf has a big offering of lazy Susans and cabinet organizers such as the unit shown in Photo # 6. Shelves that Slide allows you to easily access things stored in the back of a shelf; and Drawer Solutions offers inserts that will gladden the heart of neat-freaks. And Ikea offers, well, pretty much everything. 
Small-Home Furniture Collections 
These collections of space-conserving furniture tend to be hip and expensive. But they may be a great source of inspiration for any builder-woodworker with a fair eye and a decent set of tools. Swiss Miss, curated by designer Tina Roth Eisenberg, reminds me of a Churchill quote, "My tastes are simple. I like only the best." Tightly focused on small-space furniture are emporia such as furniture store blog and dornob.com. One of my favorite sites, digs digs, often features furniture, as does living in small houses. As you prowl the Internet, you also find talented individuals such as Danny Kuo.
Rube Goldberg Lives!
If there's a patron saint of Fine Homebuilding, I suspect it's Rube Goldberg, the Pulitzer-Prize winning cartoonist, author and sculptor whose ponderously complicated inventions delighted readers for six decades. That same spirit lives on in the new breed of "multi-tasking appliances," which Consumer Reports recently characterized as "appliances that do nothing well." Bed, Bath & Beyond, for one, offers a Toastmaster Cool Touch Toaster Coffee Maker Combo but how one toasts coffee I will leave you to figure out. Shown above, the Back to Basics Egg and Muffin Toaster presumably poaches the egg. Does it coordinate both tasks so your toast is hot when the egg is done? Can't say. Dunno about you but it's all I can do to get a runny egg to my mouth without dribbling it on my shirt.
Create Your Own In-Law!
If you're interested in small-space living and second units, please check out my new book, Outlaws and Granny Flats: Your Guide to Turning One House into Two Homes. The Library Journal named it one of the 10 Best Design Books for 2011. You can also preview In-laws, Outlaws' lush professional photos at www.cozydigz.com 
If you will be renovating your home (or perhaps creating an in-law suite), there's no better companion than Renovation 4th Edition, (November, 2012). Its 614 pages, 1,000 photos and 250 detailed illustrations cover home renovation from start to finish and  contain lifetimes of practical, field-tested techniques that professional builders shared with me over a 40-year period.
© Michael Litchfield 2012
Rube Goldberg, like many Fine Homebuilding readers, loved widgets, gadgets, gizmos and wildly inventive contraptions.
This stainless steel restaurant work table did yeoman's service in a tiny in-law unit, serving as a small-appliance center, design-studio work space, and occasional dining table for a family of three. It also added a touch of industrial chic. Thanks to Stonorov Workshop.
This vintage Dutch gate-leg, drop-leaf table can get small in a hurry, saving precious space in close quarters. Choosing distinctive pieces makes a place feel like home.
Folding chairs needn't look like you're hosting a bingo game in a church basement. These circa 1930s wooden folding chairs are elegant, strong and flat enough to store a dozen in a cloak closet.
Simple room dividers (which can also be constructed from a set of large shutters) allow you to hide a bed or a sink full of dishes that you don't feel like washing just yet.
If you've ever cussed a drawer or shelf jammed with pots, pans and lids, you'll love this organizer. Everything fits and is easy to get at. It also reduces clamor, often an issue in shared spaces.
A lot of talented designers are city dwellers living in small digs, so it's not surprising that their designs are often concerned with optimizing storage and usable floor space.
For college students, the sleep-deprived, the chronically late for work, and serious gadget-lovers, an egg-cooker-and-toaster that does everything but salt and pepper your eggs.