Ice Dams, Can Lights, Wet Walls, and Water Damage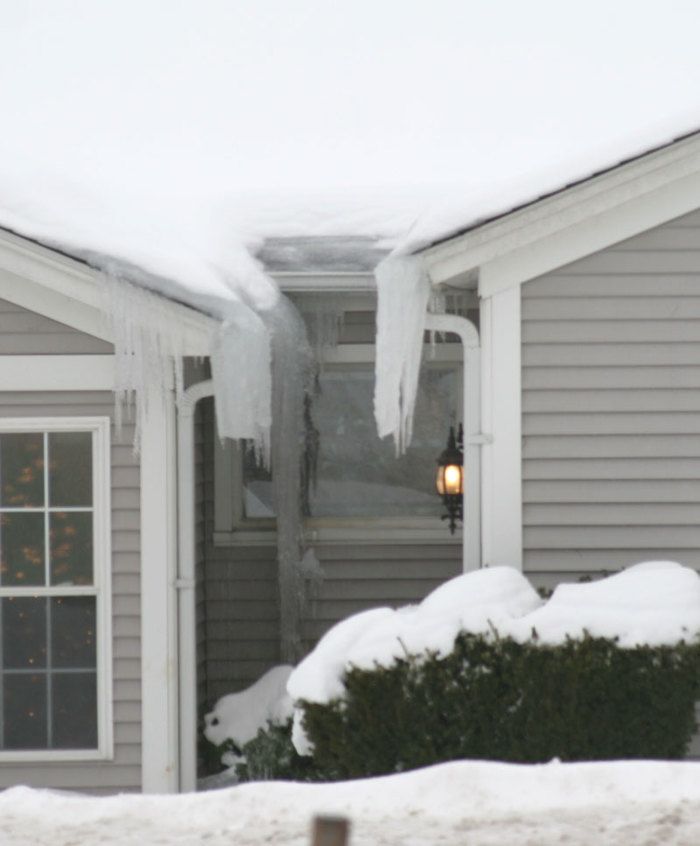 It's the time of year that I watch my neighbor across the street pull out her roof rake and begin raking her roof. I won't even rake my lawn, but the roof? Are you kidding?
If you knew my neighbor, you might think nothing of it. This is the lady who mows her lawn every single day during summer — to keep it the right height. She also washes her driveway most every day of spring, summer, and fall. Raking the roof as a hobby just isn't that far-fetched for this lady. But the reason she does it is different from the reasons that she mows the lawn and washes the driveway.
Roof raking has an actual payoff: it cuts down on ice dams and the inherent water leaks that come with them. But roof raking is no more of a cure for ice dams than aspirin is a cure for arthritis. It stops the pain, but doesn't treat the cause of the problem. Or so I thought until recently.
Last week while I was sifting through some video footage I learned of some interesting aspects about ice dams. The video footage was shot last summer while I attended a a two-day class called Building Science Fundamentals taught by Joe Lstiburek and John Straube, of Building Science Corporation. I was shooting footage of the class in hopes of turning it into a video series for Fine Homebuilding and Green Building Advisor. The segment I was watching was about roofs that had a 15 minute section on ice dams.
I already knew that ice dams are caused by heat escaping into an attic, warming the underside of a roof, which melts the snow. The water runs down the roof until it gets past where the exterior wall is and then it freezes — because the roof deck is no longer warm. The ice builds up and forms a dam as more water runs down onto it. Eventually the ice works its way up the roof, digging under shingles, melting, and leaking into the house. At this point, many people think they have a roof leak when they really have an air-sealing and insulation problem.
Ice dams are a bigger problem in places with lots and lots of snow. What I learned by watching the Dr. Joe's class was that even if you have a well-insulated roof, ice dams can still be a problem in heavy snow areas; because snow is such a good insulator (~ R-0.5 to R-1 per inch). This seems counterintuitive at first, but think about it: to melt snow, the roof deck has to be above 32°F. Because snow is such a good insulator, it insulates the roof deck from the outside cold air. If the roof is insulated to R-18 and there is 24 in. of snow on the roof, the deck is sandwiched between two layers of insulation: R-18 below and about R-18 above.
If the temperature difference between inside and outside is 70° (0°F outside, 70°F inside), then the roof deck is most likely right in the middle, at 35°F — above the freezing temperature of water. In essence, the snow is insulating the roof enough to melt itself. Here in New England, we've gotten hit by a few snowstorms lately, and two feet of snow on the roof is not far-fetched at all.
The cure to ice dams more mundane than roof rakes: insulation and air sealing in not-so-heavy snow zones, and good insulation coupled with roof venting in heavy snow zones. But you can't rely on insulation to control ice damming in high snow areas — you need to couple it with ventilation or Australian ski bums with shovels as Dr. Joe pointed out. Roof rakes, though, do less damage than ski bums with shovels.
Ice dams were explained in the article "Preventing Ice Dams (Fine Homebuilding 98, 1995) by Paul Fisette, and then again by Fissette in 1997 in the Q&A section: "Preventing Ice Dams in Valleys."
A few months ago, senior editor of Green Building Advisor, Martin Holladay, wrote a great article on the subject as well: "Prevent Ice Dams with Insulation and Air Sealing" and another interesting article just came out on Green Building Advisor by Alex Wilson called "Drive-By Energy Audits."
For information on how to stop heat from escaping into your attic and how to ventilate the rafter cavities, watch the video series Air Sealing an Attic with Mike Guertin.