9 Tips for Building a Better Deck
Tips for building better decks given to us and now passed along to you.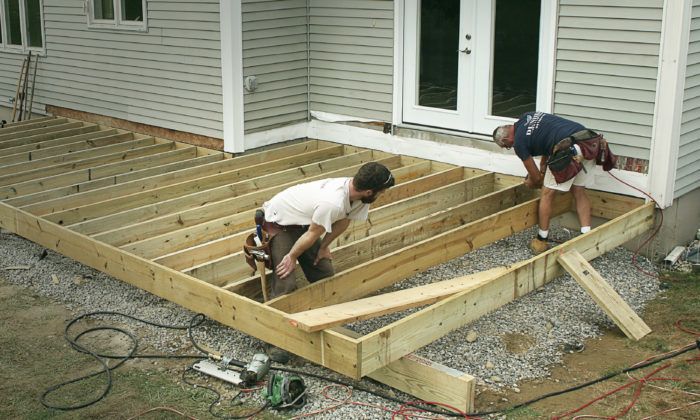 Building a deck is a fantastic project for a homeowner, and a great way to add outdoor space for family and friends to enjoy. It's also a basic project to learn the ins and outs of building. Part of the battle is understanding what problems could pop up and how to deal with them. With that in mind, here is some of our best advice for building a deck that will last and look great.
1) Labor-saving deck-building strategy

The temporary beam support shown in the drawing saved us money and a full day of time. Here's how it worked. A typical deck project begins by digging the holes for the footings, getting them inspected, and then placing the concrete. We tweaked this sequence by putting the forms in place on day one and by continuing with our framing by supporting the beam with the temporary braces shown in the drawing. The posts are measured and cut to fit, and are hung from the beam with the base and cap hardware already attached. Using this method, we framed the entire 12-ft.-sq. deck on day one. On day two, we had our footing inspection, poured the concrete piers with quick-set concrete, and installed the decking and railing. We were done in two long days. —Brian Brophy, Lockeford, Calif.

2) Precision-fit deck posts

I have long been frustrated trying to get a decent fit while installing decking around deck posts. The drawing shows how I finally solved the problem. Before installing the posts, I simply cut a 1/4-in.-deep dado around the post. The width of the dado is equal to the thickness of the decking, and the bottom of the dado is flush with the tops of the deck joists. I cut the dado by making multiple kerfs with my circular saw. Then I clean up the stray bits with a chisel. Installing the decking is now a matter of loosely fitting the deck boards to the bottom of the dado. This method saves time and frustration, and best of all, the posts look as though they grew there. —Mike Nolin, Brewster, Mass.
3) Another angle on spacing deck-railing balusters
I have struggled many a time in the past to create equal, code-approved spacing between deck balusters. The method I've come to rely on—the slant-rule technique—has taken all the frustration out of the problem. With one baluster installed at each end of the railing, I start by measuring the distance between their centers. Next, I divide this number by the desired spacing between the centers of the balusters. Around here, the space can be no more than 4 in. With 2×2 balusters, I divide the railing length by 5-1/2 in. That's because 5-1/2-in. centers on 2×2 balusters results in a 4-in. space between them. Let's say, for example, the length is 158-3/8 in. I divide it by 5-1/2, which equals about 28-3/4. I round up to the next highest whole number: 29. Now I multiply 5-1/2 by 29, which equals 159-1/2. At one end of the deck, I drive a nail into the center of the first baluster. At the other end of the deck, I place my framing square with the long blade parallel to the rim joist and the short blade aligned with center of the last baluster. With my tape hooked to the nail, I find the point on the short blade of the square where 159-1/2 in. falls. The tape is now at a slight angle to the rim joist, and I can measure off 5-1/2-in. increments with my framing square and mark them on the rim joist to locate the center of each baluster. It helps if you have a calculator that has an add-on function to speed the layout sequence. Once I began using this method, I was surprised by how fast and effortless it is. With a little ingenuity, I think this technique could be applied to a staircase as well. —Mike Hoffman, Portland, Ore.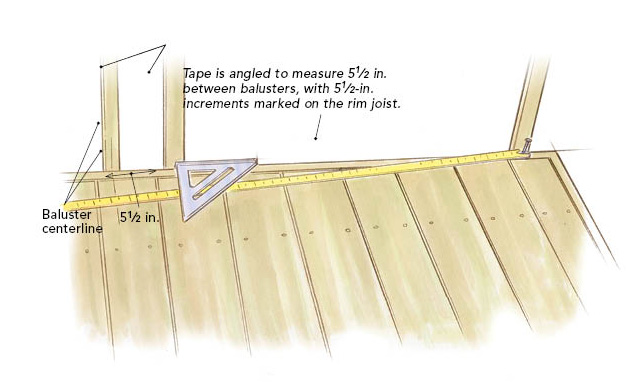 4) Using leftover pressure-treated lumber

When building my deck, I had some short 4×4 pressure-treated offcuts. To help reduce waste and alleviate envi­ronmental concerns when disposing of pressure-treated lumber, I found the short 4x4s made excellent intermediate supports for the tempered-glass balustrade. I notched the ends to receive the frames and cut chamfers on the edges to make strong and attractive deck elements that saved the cost of buying commercially made brackets. —Robert Gunn, Mississauga, Ont., Canada

When our house was built in 1958, the plan included large decks on two sides. They were built conventionally: 2×8 joists covered with 2×6 planks set on 6-in. centers. By 1980 I had to replace the decking, primarily because of rot that started wherever two 2x6s butted each other over a joist. My design involved doubling up the joists as shown in the drawing. This simple change accomplishes the following: no tight butts in planking, no butts over joists, no split 2x6s from nailing them at their ends, and the entire structure can now "breathe." The deck has a width of 15 2x6s. With careful layout using lengths up to 20 ft., I have no more than four joints at any station, minimizing waste. I used pressure-treated southern yellow pine. At the time, all the lumber cost about $1000, and only $64 was added by doubling up on the 2x8s. —James B. French, Portsmouth, R.I.
If you're pouring piers for a deck that extends above the grade—and that deck calls for decorative skirting to hide the underside of the deck—you could install those skirtboards right up to the pier and then have to notch them over the ugly protruding concrete, but there's a better way. By using some scrap rigid foam and wet-setting the anchor bolts, you can create a template that helps you easily avoid this eyesore from the start when pouring concrete piers. —Kevin Ireton, New Milford, Conn.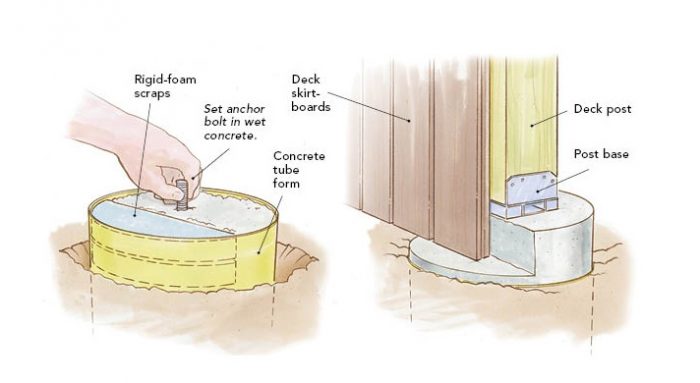 When I built my own deck, I wanted to conceal the fasteners for aesthetic reasons as well as for function (not catching something on a protruding fastener) and durability (not creating an entry point for moisture to penetrate the decking). I looked at all the edgemount and bottom-mount systems, and was turned off by their tediousness and taken aback by their price. Instead of investing in one of these proprietary systems, I used GRK R4 Multi-Purpose Screws to affix each deck board to its joist from below. As shown in the drawing, I used two 8-in. by 2-1/2-in. screws per board at each joist. Working from below, I started the screws about 1-1/2 in. from the top edge of the joist and angled them at about 30°. That put about 3/4 in. of each screw into the 5/4 deck boards. The sharp "zip-tip" points of the screws eliminated the need to drill pilot holes. It has been a couple of years since I installed the decking, and it looks great. The decking is solid as a rock without a single squeak, and I saved about $1500 on mounting gizmos. —Steve Carle, Edina, Minn.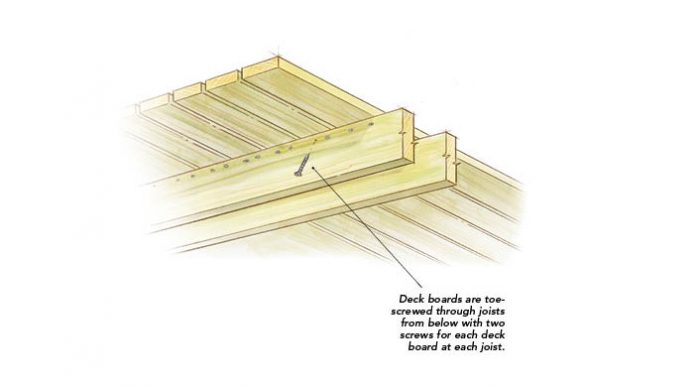 8) Spacing deck boards with a wedge

My company builds a fair number of decks, and we spend a lot of time trying to straighten boards and adjust the gaps between them. Most of our decks are made of cedar, which mars easily, so we've tried just about every technique in the book to coax the deck boards into alignment without damaging them. The results have always been mixed. One day we had a nylon felling wedge on site, and a crew member used it to separate a couple of deck boards that were too close (see drawing). We all became instant converts. Nylon felling wedges are available at any store that sells chainsaws and related equipment. The wedges sell for only a few dollars. A felling wedge tapers to a good, sharp edge, and it is extremely tough. If you pick one with smooth sides, the wedge will not mar even the softest of woods. Best of all, felling wedges are typically bright orange, and therefore they are nearly impossible to lose. —Grant Johnson, Heriot Bay, B.C., Canada

On a deck made of a Brazilian hardwood called Tigerwood, I was able to force all boards into place using a tip from a past issue in which a pipe clamp is anchored against a pry bar inserted between previously installed boards. This deck, however, has two outside rows of deck boards oriented perpendicular to the field boards and parallel to the main floor joists. I had no desire to purchase 20 ft. of 3/4-in. pipe for my pipe clamps to span the width of the deck. Instead, I placed a pipe clamp on each side of the deck and then joined them together using a length of tow chain with grab hooks at each end. I placed a block under each of these intersections to prevent damage to the beautiful wood. —Stephen Beese, Winston-Salem, N.C.
Next:
Framing a Grade-Level Deck