Creating an Urban Oasis: A Green Live-Work Space Blooms on a Gritty City Lot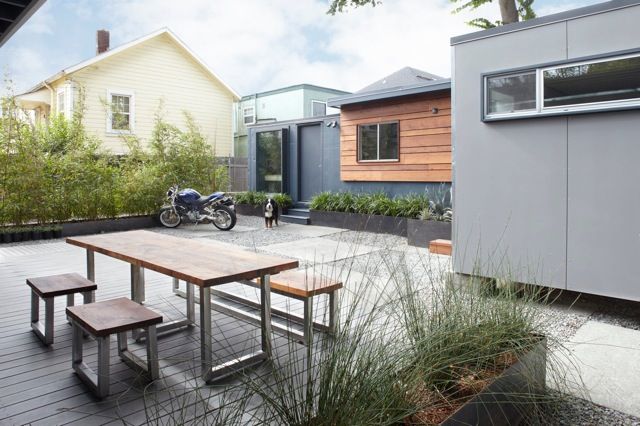 One of the great tests of green building will be how well it thrives in inner cities and other inhospitable environments. To put his green beliefs to the test, contractor Stephen Shoup bought a woodshop in a marginal neighborhood and converted it into a work-live space that housed both him and his design-build business, buildingLab. It was a tight fit; his living room frequently doubled as a lounge for his crews-but it worked while he was single. 
Then Stephen fell in love with Taya Rhodes, a landscape architect, and shortly they were in full nesting mode, with a baby on the way. Clearly, it was time to get the work out of work-live space. Ultimately, Shoup decided to house his business in a pair of shipping containers, which contractors often use as satellite offices on job sites.
How Stephen and Taya turned the containers into an attractive, cost-effective and ultra-green home office-and transformed a gritty lot into an elegant courtyard-should cheer green advocates and city dwellers alike.
Roads not taken
As it turns out, shipping containers were the last option Stephen considered.The original woodshop was basically a big box, so he first thought about adding another smaller box atop it. That would have triggered a design review, however, because the original building had been built right on the northern property line, with no setback. Thus, to satisfy current zoning requirements, a second-story addition would have had to be set back 20 ft. from the building's northern face. Consequently, the addition that resulted would have been too small to be feasible.
Once building up was out of the question, Shoup thought about adding a bump-out along the eastern or western ends of the building. Either bump-out was appealing because it would create an L-shaped structure that could eventually become a courtyard. But a bump-out to the east would have blocked the afternoon sun of his nearest neighbor. Whereas a bump-out to the west would have obstructed access to Shoup's driveway, which ran along that side, and blocked views of an adjacent park.
A self-contained courtyard
At that point, the best option became obvious. Setting a shipping container along the southern side of the property (parallel to the main house) and then placing a second one at a right angle to the first would create an L-shaped office. The driveway and views to the west would be unaffected and three sides of a courtyard would be in place. The last piece of the puzzle was landscaping. By planting a long bank of bamboo along the east, Stephen and Taya could screen views of their neighbors' house without blocking its sun. 
The layout had everything going for it. It created a sense of privacy and safety without feeling claustrophobic. Because of a downturn in the global economy, shipping containers were cheap and readily available. (A 2008 New York Times piece estimated that 700,000 containers sat idle in the U.S.) Best of all for the expecting couple, the solution was fast. "Containers are like big box beams," Shoup explained. "They can be placed on concrete piers rather than on a tee foundation, which costs more, takes longer to build and guzzles resources. So buildingLab's office really is green from the ground up." 
Urban Green Galore
Even for a green aficionado, there was an amazing amount of recycled materials used in turning the containers into an office. Like many general contractors, Shoup had a stash of building materials he'd salvaged from jobs over the years. But his stash of salvage wasn't just a matter of saving money and recycling. The salvaged redwood and fir boards were re-used as siding and paneling for aesthetic reasons: to soften the hard lines of the containers and add warmth and natural beauty to what would have otherwise been vast expanses of metal.
And, Shoup freely admits, he wanted to experiment with all that salvage because it's his place. He could try things that he might not want to risk if it were a client job and somebody else's money. There's no one right way to insulate a corrugated container, for example. In standard construction, most of the materials are flat, so framing, sheathing, insulation and finish surfaces are applied like so many layers of a cake. But how do you fit a pocket door into a wavy metal wall, for example? It was all a great adventure. Not unlike the head-scratching and Ahah! moments any homeowner experiences when he or she takes on a DIY task they've never done before. You figure things out.
The common sense of green
Building is, after all, mostly common sense:
(1) If you've got a small structure (each container was 8 ft. x 8 ft. x 16 ft.) and need to squeeze every usable inch out of a room's interior…insulate the exterior.
(2) If you want to reduce lighting costs, maximize natural light by adding windows, skylights or light tubes.
(3) If you install solar panels to pre-heat water in the office's radiant floor system, add a few more valves and pipes and pre-heat the water for the main house as well. 
(4) If you like the look of a natural material or an irregular surface and don't want to hide it-don't. You'll save money and delight your eye. Shoup left part of the container's exterior wall and all of its corrugated ceiling exposed because he likes its look and thinks it "tells a story" about how the office is constructed.
buildingLab's green touches 
Shoup's home-office compound has an impressive number of green touches, starting with its recycled shipping containers. Other energy- and resource-saving details include:
• Sustainably grown cork flooring
• Radiant floor heating, with water preheated by hydronic roof panels
• Fluorescent lights throughout, natural light maximized
• Homasote (recycled newspaper) interior panels instead of drywall
• Framing lumber salvaged from deconstruction, not demolition
• Recycled redwood siding, fir paneling and windows
• Super-insulated shell, including R-20 rated floors
• Cement-board siding containing fly ash (recycled industrial waste)
• Drainage plane beneath siding to reduce heat and moisture build-up
• Reflective roofing to reduce cooling costs
• Improved permeability in the courtyard 
Future present
Above all, the building choices you make should reflect who you are and how you want to live, now and in the future. As the office neared completion and their house filled up with baby gear, the future was certainly very much on Taya and Stephen's minds. "How we live will have a great impact on our daughter because we seem to be on the cusp of huge changes, global changes," they said. "Yes, building decisions are tangible choices, but they're also moral ones. And by the time she's old enough to understand the path we've chosen, we want her to be proud of us."
Create Your Own In-Law!
If you're interested in second units, please check out my recent book, Outlaws and Granny Flats: Your Guide to Turning One House into Two Homes. The Library Journal named it one of the 10 Best Design Books for 2011. You can also preview In-laws, Outlaws' lush professional photos at www.cozydigz.com 
If you will be renovating your home (or perhaps creating an in-law suite), there's no better companion than Renovation 4th Edition, (November, 2012). Its 614 pages, 1,000 photos and 250 detailed illustrations cover home renovation from start to finish and  contain lifetimes of practical, field-tested techniques that professional builders shared with me over a 40-year period.
© Michael Litchfield 2012
When it's fully grown, a stand of bamboo planted along the east will screen views of the neighbor's house while allowing afternoon sun to filter through. The planter boxes were fabricated from ¼ in. steel.
A patchwork of rectangles and squares: the courtyard and office viewed from the deck of the house. Recycled redwood siding joins the sections visually.
The office meeting room, as seen from the entryway. A pocket door of tempered glass slides out of the wall to provide quiet and privacy for client meetings.
Master bath in the main house. The tiles around the tub were set vertically to echo the pattern of bamboo paneling in the master bedroom.
Set slightly apart, the two containers will be joined by wooden floor and roof platforms, creating a small vestibule. Though three openings have been cut into the new container, only one has been removed at this point.
Inside, floor framing connects the containers. Because the lot slopes gently, the second container sits about 6 in. lower than the first. Instead of having a step down into the new unit, its floor is built up to create an elevated platform for two-thirds the length of the room.
Installing cork flooring over the radiant heating system. Recycled fir paneling will be screwed horizontally to the vertical wood strips attached to container walls.
Despite its industrial origins, the container feels warm and cozy inside—thanks to recycled fir paneling, cork flooring and radiant heat. A low bookcase and a drop in floor levels separate Stephen's work area from the meeting room.
On the other side of the courtyard, Stephen, Stella Dog and Taya gather on the deck of the main house, which has the same spare elegance as the other buildings in the compound. In nice weather, the 8-ft.-wide sliding door opens the kitchen to the deck.
Grinding down the rough edges created by a plasma cutter. Note the angle iron below the opening, which has been bolted to the container shell to support a window.
To preserve precious interior space, rigid insulation is applied to the outside of the container. The wooden battens applied over the insulation are screwing-strips for the cement-board siding that follows.
Not long after his design-build firm outgrew the first shipping container that housed its office, Stephen Shoup added a second. Here, Shoup guides the second container through the trees and over the fence, to be placed on four concrete piers, where it would rest perpendicular to the first container.