Getting on Board with Smog-Eating Roof Tiles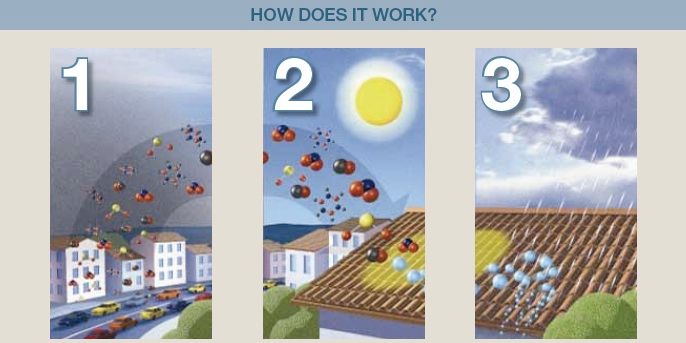 While the most straightforward way to deal with smog produced by vehicle exhaust obviously is to not generate the exhaust in the first place, it's also obvious we're going to be living with the stuff for quite some time, even if hybrid and all-electric cars hitting the market over the next several years sell well. It probably can't hurt, then, to try to mitigate smog pollution by other means, even by something as unlikely as smog-eating roof tile.
That's the strategy being followed by KB Home in some of its developments in Southern California, where it has begun offering a product called, appropriately, Smog-Eating Tile as an upgrade option. The cost varies with the size of the roof, but a KB Home executive recently told the Press-Enterprise, based in Riverside, that the upcharge would be about $800 for a roof on a 2,000-sq.-ft. home.
An existing technology and a new application
Coated with a titanium oxide, which, when struck by ultraviolet light, breaks down the smog-causing nitrogen oxides found in exhaust, the tile is manufactured by MonierLifetile, a division of Boral Roofing. Boral is collaborating with KB on the rollout of the product, which was unveiled last November on five KB prototype homes built in West Lancaster, California.
A spokesman for the South Coast Air Quality Management District, which regulates the Southern California air basin, noted that titanium-oxide coating has been used on automobile radiators to help neutralize nitrogen oxide released on roadways. The European Union also began testing the treated tiles several years ago, and the tiles are sold in Europe by a Monier division in Germany.
With ultraviolet as a catalyst, the titanium oxide breaks down the mono-nitrogen oxides into nitrate residues, which wash off the roof when it rains and fertilize the landscape below. Tests done in Germany show that 2,000 sq. ft. of Smog-Eating Tile neutralize about the same amount of nitrogen oxides as are produced by an automobile driven 10,800 miles.