KB Home's "Mileage Sticker" for Household Energy Use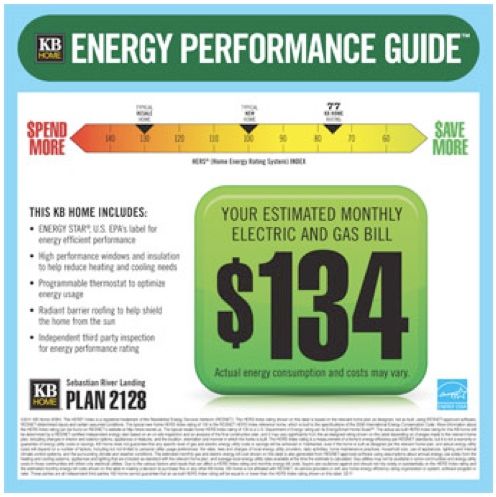 The consumer market is already ripe with monitoring gadgets, software tools, and strategies to help homeowners track and tame their energy use. But the thing is, the effectiveness of each of them – including the ones that rely heavily on peer pressure – ultimately depends on one big, scary variable: occupant behavior.
So maybe there is something to be said for knowing what you're getting into, energy efficiency-wise, before you actually buy a new home. That seems to be at least part of the rationale behind the KB Home Energy Performance Guide, or EPG, which was introduced this week and is intended to provide prospective homebuyers with an estimate of average monthly energy costs. The estimated costs are calculated using the home energy rating protocol known as the HERS Index rating, which is based on an analysis of the building's design and performance, and on local utility rates.
The company says EPGs will be posted in all KB model homes starting this month. The HERS Index uses as its reference a comparable home built to the specifications of the 2006 International Energy Conservation Code, which would score 100 on the HERS rating scale. KB Home notes that it builds its homes to meet or exceed the Energy Star standard – which means they would score significantly lower than 100 (because they use less energy) in a HERS evaluation.
The beginnings of a green rollout
Some observers were quick to predict that, like miles-per-gallon stickers on new cars, the EPGs won't dramatically boost sales or mean much to many buyers. On the other hand, why not give it a shot? For the cost of hiring a HERS rater – who is certified by Residential Energy Services Network, the home-performance ratings agency, to analyze design plans, run home-performance tests onsite, and calculate the energy efficiency of the buildings tested – it probably will turn into a decent marketing tool for KB. The homebuyers inclined to pay attention to energy costs are likely to find an average-usage estimate helpful, while those whose priorities point elsewhere will be busy comparing countertops, floor finishes, and faucet fixtures.
KB Home has already attracted attention for its GreenHouse, a prototype designed to operate at net zero energy, and KB's chief executive, Jeff Mezger, told the Wall Street Journal that the EPG is actually just one part of a larger green-initiative rollout.
It also seems likely that EPG stickers will make their way into homes offered by other big builders. Steve Baden, executive director of RESNET, noted recently that the agency has been forging similar alliances with other major homebuilders, and that Pulte Group could be among the next to adopt the EPG.