Design
Bookshelf Divider Unites House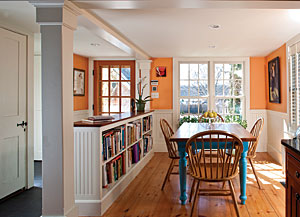 The rear portion of the clients' house was split in half by a wall that created two too-small areas: one a back entry/mudroom, the other a breakfast alcove. Architect Lynn Hopkins solved the problem with a bookcase, a closet, and a relocated door. The door was moved to the back of the house, improving access to a new outdoor living area. Coats, boots, and hats are corralled in a new closet, keeping the mudroom sufficiently presentable to share visual space with the breakfast area and the adjacent kitchen. Removing the wall allows light to enter the back of the house from three sides, and this also makes the areas feel more spacious. The bookcase provides a convenient place to set things down when entering the house, generous storage for a large collection of cookbooks, and just enough separation between the two different activity areas.
Architect: Lynn Hopkins, Lexington, Massachussetts
Builder: Summit Builders, Lyme, Connecticut
Photos: "Before" photo courtesy of Lynn Hopkins."After" photo Bill Hopkins.